Przywódcy:
Dizzy_Dogg
,
Firebow
i
Mister_Vampire
Zasady dołączania:
Grupa otwarta
Utworzona:
21 I 2012
Opis:
ACTA is the Anti Counterfeiting Trade Agreement.
Disguised as a Trade Agreement, ACTA goes much, much further than that
Tell a friends about this group, all web users should to know about ACTA!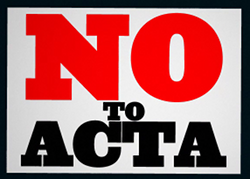 ENGLISH


WERSJA W JĘZYKU POLSKIM


POLAND against ACTA!




Can you imagine your Internet Service Provider policing everything you do online?
Can you imagine generic drugs that could save lives being banned?
Can you imagine seeds that could feed 1000's being controlled and withheld in the name of patents?

This will become reality with ACTA.