Michael Jackson Rest In Peace
Leader:
Nessuno! (Vuoi candidarti come leader? Consulta la sezione
Gruppi
della Guida per scoprire cosa puoi fare).
Criteri di appartenenza:
Aperto
Data creazione:
26 Giu 2009
Descrizione:
MICHAEL JOSEPH JACKSON, 1958-2009
Gone Too Soon...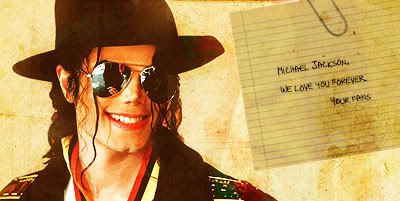 R.I.P.

MICHAEL JOSEPH JACKSON

1958-2009

This is a group to express our shock & grief for the sudden death of a music legend, Michael Jackson, a man who has influenced millions of people with his extraordinary talent. For over 30 years, generations have grown up listening to his music and they keep going on. The last goodbye to the man who may had been described ecentric, controversial but was also at the same time the creator of classic songs for the pop culture. This was MJ, for the fans, definitely an idol and a legend whose fame will last forever no matter how many years pass.
We Will Miss You
Like a comet
Blazing 'cross the evening sky
Gone too soon

Like a rainbow
Fading in the twinkling of an eye
Gone too soon

Shiny and sparkling
And splendidly bright
Here one day
Gone one night

Like the loss of sunlight
On a cloudy afternoon
Gone too soon

Like a castle
Built upon a sandy beach
Gone too soon

Like a perfect flower
That is just beyond your reach
Gone too soon

Born to amuse, to inspire, to delight
Here one day
Gone one night

Like a sunset
Dying with the rising of the moon
Gone too soon
Gone too soon