Leader:
PeterRDavey
Join Policy:
Open
Created on:
22 Jun 2006
Description:
From The DC Area Go-Go's Funk Influenced sound developed in the 70's by artists such as chuck brown.
GeT Educated: wikipedia: GO-GO
Go-Go!
the funk ass vibe and lifestyle.
Keeping it real in the city
Fusing multi-genres by using congas/cowbell/funk-based percussion parts, driven by heavy-footed drumming and punctuated by crowd call-and-response
Chuck Brown, 3rd Dimension, Fuq Pimpin Slavin is Back, MVP, Rare Essence, VFORCE2K, and Trouble Funk to name a few.
Go-go INFO CENTRAL. Shows, Music Downloads, etc...
Click here for a wealth of information. Blogs w/ free DL and youtube videos hardcore go-go stylie
Go-Go Radio Online Free Stream.
windows media player/itunes (probably the easiest way to get introduced.
OldSchoolGo-Go
Register for free dl's
DMV Go-go Blogspot
Free downloads ZIP then unZIP and Listen!
check out some bands, you might find something new and interesting...
247 taggers
www.last.fm/tag/go-go/artists
we got 30 more people in 6 months or something like that!
*NEW* A new TAG created by me:
Indie Go-go
check it out Any aspect of go-go is played as with their timbales, long dramatic bass slides, distinct percussive hits, cowbell, call & response, etc..and so on...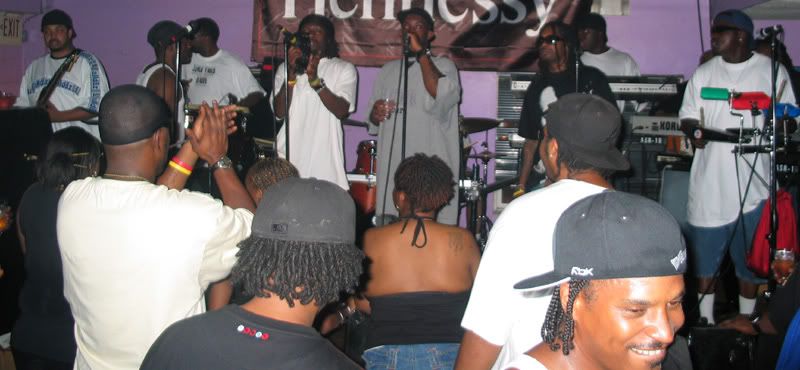 Recommendations:
It Don't Mean a Thing
("if you dont got the go-go swing" classic cover. very funky. pure go-go)
MVP- Feelin' Free!!!
(amazing chill funk rnb w/ minimal jazz and amazing guitar solo)
mvp- Fat albert 2.0
funky fun
Fuq Pimpin Slavin is Back(MYSPACE)
- Hardcore HIP-HOP GO-GO
1 Thing
(dance hip-hop rnb pop fused w/ go-go)
Seed Is...
( Chameleon features funk jazz jam w/ straight go-go)
DJ Flexx- I cant make it
(implementing hip-hop)
Pump Me Up
(funk go-go rap: SOUNDS TIGHT SLOWED DOWN.Sick jam out cowbells,bongos, and drums bump'n)
Junk_Yard_Band_-_Beef_Jerky_Ti
(groove funk earthy swayzie)
Perfection band - g's up (Deep Instrumental Hard Go-Go)
Northeast groovers- Off Da Muscle
(hedbangin funk)
Junk Yard Band- The Word
(dirty Deep ghetto Funk)
Blessings to my fellow friend CrashPryor .. by 2Serenity | 31 Oct 2007 |

5 comments

Prince - The AFTERSHOW - the Indigo in LONDON by 2Serenity | 14 Sep 2007 |

9 comments

Maxwell gave his fans on myspace a sneak peak.. by 2Serenity | 1 Sep 2007 |

6 comments
See all