Leader:
AsteroidB-612
Join Policy:
Open
Created on:
29 Apr 2006
Description:
For fans of the anime/manga
Yami no Matsuei
(Descendants of Darkness /
闇の末裔) as well as its music.

This is a group for the fans of the anime and manga "Yami no Matsuei" by Yoko Matsushita, as well as the music featured in it.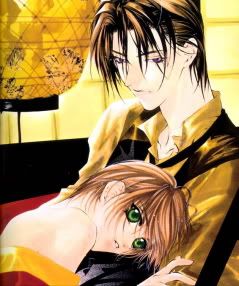 -o-
Welcome to Yami no Matsuei:
Yami no Matsuei
- The Group
Leader:
AsteroidB-612
The Golden Rule:
Please be courteous and respectful - no hateful messages of any kind. Besides that, feel free to do whatever you like.
From Wikipedia
Descendants of Darkness, known in Japan as Yami no Matsuei, is a manga and anime series created by Yoko Matsushita. The anime is broadcast by WOWOW in Japan and is produced in North America by Central Park Media. The manga was serialized in Hakusensha's Hana to Yume, and is published in English by VIZ Media. It has been collected in 11 tankoubon or volumes.
The series was first published in 1995, and continued fairly regularly until 2003, when Matsushita decided to go on hiatus. With the exception of a few sidestories, it remains on hiatus through today. However, Matsushita has announced plans to continue with the series some time in 2006.
Descendants of Darkness has both aspects of comedy and horror to it, with many violent scenes interspersed with more light-hearted ones. Descendants of Darkness is a story about Shinigami, the Shinto Gods of Death; in English, it is translated to Guardians of Death. The Shinigami reside in Meifu, or purgatory. They are the servants of Enma Daioh, the king of the dead, and work in the department of JuOhCho. In YnM, Shinigami are spiritual detectives who sort out the descrepancies between souls who have arrived and the kiseki, a list of those who still need to arrive to Meifu.
Main Characters
Asato Tsuzuki
Asato Tsuzuki is the main protagonist of the story. He was born in 1900, and was 26 years old when he died and became a Shinigami. He is the oldest employee of the Shokan/Summons division, besides Chief Konoe, and the least well-paid, due to his perceived incompetency.
Tsuzuki enjoys sake, apple pie, cinnabon, teasing Hisoka, and sleeping. He is notorious among his fellow Shinigami for his slacker qualities and voracious appetite. His favorite color is light green, and he has a tulip garden. Tsuzuki's characteristic response to sweets involves puppifying, a transformation that keeps Tsuzuki human, but gives him white puppy ears, paws, and a swishing tail. This is an anime/manga expression that denotes severe cuteness.
Hisoka Kurosaki
Hisoka Kurosaki is a Shinigami in a 16 year old's body. He possesses strong empathy, which allows him to feel the emotions of others, read thoughts, see memories, and pick up imprints of clairvoyance off of inanimate objects.
He came from a traditional family, and was trained in traditional Japanese martial arts. His parents were afraid of his spiritual powers, which they considered freakish and unfit for their heir as well as something that could unfurl the familiar secret; so as a child, whenever he was caught using his abilities and during special days, he was locked in a cellar.
In Meifu, Hisoka was assigned as Tsuzuki's partner. Unlike his partner, however, Hisoka enjoys reading, and spends much of his time at the library. His health even in the afterlife does not seem to be particularly good, and he is not very strong. However, he is a capable detective, and clever in subterfuge.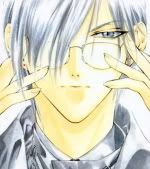 Kazutaka Muraki
Kazutaka Muraki is the primary antagonist in Yami no Matsuei. His angelic affectations serve to contrast with his brutal nature. Whenever he causes trouble, a full, blood-red moon appears in the sky. Muraki's psychological troubles appear to have begun in childhood with his mother and his half-brother Saki. Muraki's mother collected dolls, and she is shown as treating him as though he were a doll too. Muraki's love of dolls and his collecting of dolls is a motif throughout the manga and anime, paralleling what he does with real people. In the anime, it is suggested that Saki killed Muraki's parents when they were still children and also decided to kill him. However, in the manga, it is not clear what Saki's role was other than disrupting Muraki's childhood, and Muraki describes himself as his mother's murderer.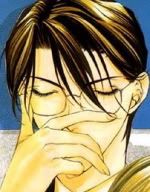 Seiichiro Tatsumi
Seiichiro Tatsumi, who was an accountant until he died at 29 and became a Shinigami, is the secretary of the Shokan Division. He spends most of his time going through paperwork and working behind the scenes. He was Tsuzuki's third partner, and worked with Tsuzuki for three months but, unable to cope with Tsuzuki's pain, quit. Tsuzuki reminds Tatsumi of his well-born mother, who constantly grieved despite Tatsumi's attempts to take care of her. Tatsumi eventually killed her (or at least blames himself for her death), and the crime still haunts him.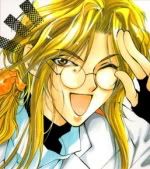 Yutaka Watari
Yutaka Watari is a close friend of Tsuzuki's who works in research and development. Though technically a mechanical engineer, he is basically a scientist who invents whatever comes to mind. He's also in charge of computer maintenace & repair. He's very bouncy and happy, like Tsuzuki, but doesn't seem to hold the inner angst that Tsuzuki does. His companion is a mechanical owl he created, "003". Watari's dream is to create a sex change potion, although his motives are not clear. He tests out all his potions and the like on Tsuzuki, relying on Tsuzuki's weakness for sweets. Watari's special power is bringing his drawings to life. Unfortunately, his skill at drawing is very poor.
-o-
Links Relating to Yami no Matsuei:
-o-
TV opening theme:
Eden by
To Destination
TV ending theme:
Love Me by
The Honk Kong Knife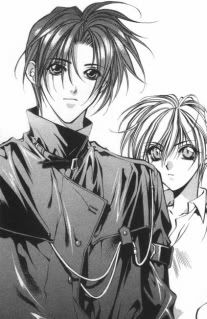 You can buy Yami no Matsuei music and drama CDs at
CDJapan
or
Amazon
Other Anime Groups at Last.fm:
-
Tokyo Babylon
-
Eerie Queerie!
-
X
-
Weiß Kreuz
-
DNAngel
-
Gravitation
-
Spiral
-
Loveless
-
FullMetal Alchmist
-
.Hack
-
Ranma½
-
Shaman King
-
Fruits Basket Forever!!!!!!
-
+ANIMA
-
Chrono Crusade
-
Kyou Kara Maou
-
Deathnote
-
Kino No Tabi
-
Anime and Manga
-
Anime Alliance
Enjoy!
III Salón Manga de Cádiz ~ 3, 4 y 5 de octubre de 2008 by eterarnial | 5 Sep 2008 |

1 comment

~IX Edición del Salón del Manga~ en Jerez 11,12 y 13 Abril by eterarnial | 13 Feb 2008 |

5 comments

Miki Shinichirou & Hayami Sho - Yami no Matsuei Seiyuu Talk by eterarnial | 15 Jan 2008
See all