Leader:
wakenthedead
Join Policy:
Open
Created on:
28 May 2005
Description: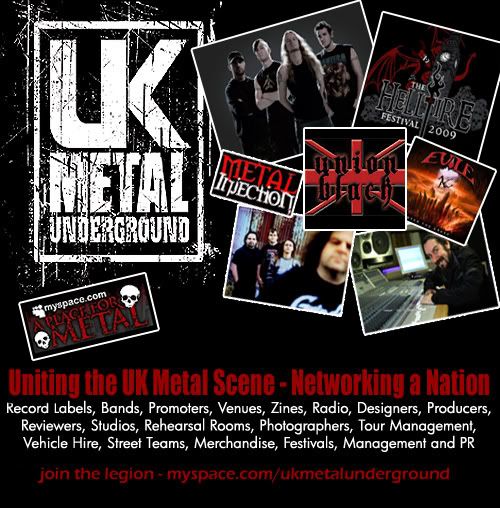 UK Metal Underground is the Webzine of Union Black - bringing you all the latest news, reviews and interviews from the best UK metal talent, whether it's bands, promoters, venues, radio stations or magazines... the list is endless. We support and promote the UK Metal scene both within the UK and abroad. So pull up a chair, get comfy and explore what we have to offer... you can find us on myspace at
www.myspace.com/ukmetalunderground
and also our forum at
www.ukmetalunderground.co.uk
We cover UK Metal, Rock, Post Rock and Alternative based music and we include Irish Bands as well.
We are shaping the foundations of a Metal movement across the country, creating our own scene. Uniting the nation, one band at a time. The UK is rising once again... be part of it.
To find out how your band can get a review by our team - click here
http://www.unionblack.co.uk/forum/index.php?topic=2612.new#new
Every month we issue a free webzine to mailing list subscribers. It's packed with industry news, interviews, gigs, reviews and contacts - to sign up for a copy or to find out more about being featured -
http://www.unionblack.net/lists/
*** THE CHARTS BELOW ARE PUT TOGETHER FROM WHAT OUR GROUP MEMBERS ARE LISTENING TO, WE HAVE NO CONTROL OVER THEM AND THEREFORE IF THEY APPEAR TO BE NON UK BANDS OR JUST SHIT - IT'S NOT OUR FAULT. PICK YOUR METAL WISELY! ***
Top 20 - 2014 by garydavidson83 | 5 Jan 2015 |

2 comments

Top 20 - 2013 by garydavidson83 | 3 Jan 2014 |

3 comments

My top 10 of 2009 by garydavidson83 | 30 Dec 2009 |

2 comments
See all