Leaders:
None! (Want to run for leader? See our
groups help section
for what you can do.)
Join Policy:
Open
Created on:
28 Feb 2008
Description:
Warhol's Factory, Max's Kansas City, Club 82, CBGBs, No Wave, Mudd Club, Danceteria, etc.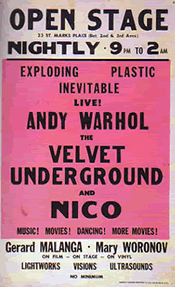 DEC. 6, 1965: MICKEY RUSKIN OPENS MAX'S KANSAS CITY.
Max's Kansas City opened at 213 Park Avenue South, between 17th and 18th Streets off Union Square. (HR/IAP32) The legendary bar/restaurant became a hangout for Andy Warhol and his entourage as well as many of Manhattan's other artists, musicians, actors, authors and drug addicts - finally closing fifteen years later in 1981.
Play Group Chart
See all members
Recent Activity
Pinetreepuller joined this group.

November 2014

DesignToKill left this group.

October 2014

smth_smbd joined this group.

June 2014

Re-Kramer joined this group.

June 2014

PappaWheelie left this group.

January 2014

Thelemae_BS joined this group.

October 2013

A deleted user joined this group.

September 2013

A deleted user left this group.

July 2013

MAOFISH1 left this group.

May 2013

dambrain joined this group.

March 2013