Leader:
AsteroidB-612
Join Policy:
Open
Created on:
19 May 2006
Description:
For fans of the manga/anime
Loveless
and its music.

-o-...
This is a group for the fans of the anime and manga "Loveless" by Yun Kouga, as well as the music featured in it.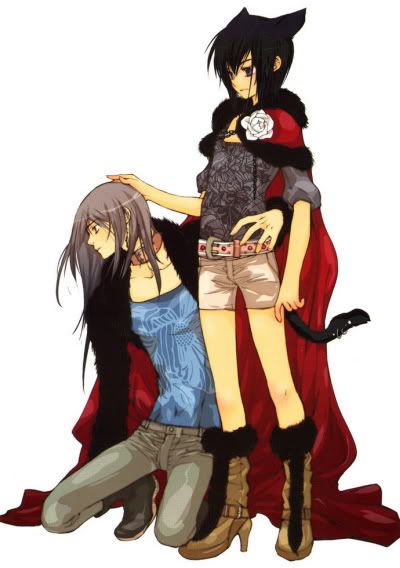 -o-
Welcome to Loveless:
Loveless
- The Group
Leader:
AsteroidB-612
The Golden Rule:
Please be courteous and respectful - no hateful messages of any kind. Besides that, feel free to do whatever you like.
From Wikipedia
Loveless is a shoujo manga with overt "boys love" overtones by Yun Kouga serialized in the monthly magazine Zero Sum published by Ichijinsha, though it began in 2002 in GFantasy published by Square Enix. As of 2006, six compilation volumes have been released. A 12 episode anime tv series adaptation has been made by J.C.STAFF, broadcast in a post-midnight slot on TV Asahi and ABC from April 2005. It has been licensed for US release by Media Blasters and was released beginning in February of 2006.
12-year old Aoyagi Ritsuka, on his first day of 6th grade meets Agatsuma Soubi, who claims to be his deceased older brother's friend. They discover that Ritsuka's older brother, Seimei, was murdered by the mysterious organization, called the 'Seven Moons' (nanatsu no tsuki). As the 'Sacrifice' and with Soubi as the 'Fighter,' they make use of the fighting style that uses language to cast spells. They challenge the organization to find out the truth behind Seimei's death and the reason for Ritsuka's amnesia.
Main Characters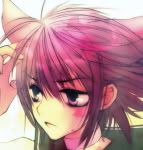 Aoyagi Ritsuka
Aoyagi Ritsuka, the main character of Loveless, is a 12 year old 6th grade student. Two years ago, Ritsuka lost his memories for an unknown reason possibly in relation to his brother's - Seimei's - death. His aim is to discover more regarding the matter. Ritsuka shows surprising insight for a 12 year old, often pondering the meaning of love, death, and life in general.
Agatsuma Soubi
Agatsuma Soubi, after his sacrifice, Ritsuka's brother is murdered, meets Ritsuka as he was ordered to do by Seimei before he died. Soubi is a popular example of a bishounen. He eventually offers to become Ritsuka's Fighter and help him find out the truth about his brother. Oftentimes, he tells Ritsuka he loves him, which usually makes Ritsuka angry at him. His skill in spell battles with Seimei is renowned by many other attendees of Fighter School, and Professor Ritsu considers him unbeatable.
-o-
Links Relating to Loveless:
-o-
TV opening theme:
Tsuki no curse by
Okina Reika
TV ending theme:
Michiyuki by
Hikida Kaori
You can buy Loveless music and drama CDs at
CDJapan
-o-
Other Anime Groups at Last.fm:
-
Tokyo Babylon
-
Eerie Queerie!
-
Yami no Matsuei
-
Gravitation
-
Weiß Kreuz
-
DNAngel
-
Spiral
-
X
-
FullMetal Alchmist
-
.Hack
-
Ranma½
-
Shaman King
-
Fruits Basket Forever!!!!!!
-
+ANIMA
-
Chrono Crusade
-
Kyou Kara Maou
-
Deathnote
-
Kino No Tabi
-
Anime and Manga
-
Anime Alliance
Enjoy!
The magical Last.FM 1000 by Nitrogenix | 19 Nov 2009 |

1 comment

III Salón Manga de Cádiz ~ 3, 4 y 5 de octubre de 2008 by eterarnial | 5 Sep 2008 |

1 comment

~IX Edición del Salón del Manga~ en Jerez 11,12 y 13 Abril by eterarnial | 13 Feb 2008 |

5 comments
See all