RECENT RELEASES2008.12.10 Live Communication!!!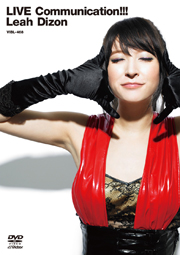 Opening
Communication!!!
Vanilla
アイシテル~Love Story
Are you feelin' for me ?
Step into my world
Everything Anything
Love Paradox
Nothin' to Lose
悲しみと笑顔の中で
Under The Same Sky
Lost at Sea
BxkxRxxx
Brand new day
恋しよう♪
Thank you
L・O・V・E U
(Leah Dizon Live Tour 2008 "Communication!!!"at SHIBUYA O-EAST 2008/10/14)

Includes a 48 page booklet!
2008.08.20 Communication!!!
CD
Step into my world
Love Paradox
LOVE SWEET CANDY
Without a good-bye
Vanilla
Nothin' to Lose
Lost at Sea
Communication!!!
Not Too Bad
BxKxRxxx
Under The Same Sky
Thank You

DVD
Under the Same Sky (PV)
Under the Same Sky (Tokyo Prom Queen Version) (PV)
Under the Same Sky (Making Video)
Vanilla (PV)
Sweet Vanilla shot!
Love Paradox (PV)
Hong Kong Tour Live & Off Leah's Cut

CD edition comes with a large photobook.