I define a "timeless" song as a song that will live on longer than the artist who wrote it. The legacy of the song will carry on forever because of it's everlasting message and it's soothing music. Most of the songs on this list are slower songs, songs that you wouldn't think a guy like me would care that much about. But they've all made their mark on me and will be with me until the day I die. (Same as my Best Opening Riffs entry, limit 1 song per artist. Sadly, classic artists like Boston, Van Halen and Aerosmith had to be left off the list so it didn't get too wild and extend to 25).
21.
Still Loving You
,
Scorpions
The best thing about this song is the way it teases you througout the entire song. You keep waiting for Klaus Meine to finally just belt out the song's title, but he saves it until the end. There's a brief moment of silence, and then the guitars come crashing in and Klaus wails, "I'M STILL LOVING YOUUUUU!" Absolutely brilliant song structure and delivery!
20.
I'm Your Captain/Closer To Home
,
Grand Funk Railroad
Two timeless songs in one, with a great transition between the two. The second half ("Closer to Home") is the best part. Sounds of the sea flow through your mind and the vocals sooth like no other. As the 10-minute progresses on, you start to see the ship fading in the distance until you finally see it disappear altogether as the song comes to an end. The greatest song ever written about life at sea.
19.
Summer Breeze
,
Seals & Crofts
"Blowing through the jasmine in my mind..." One of the most majestic lines ever written. The tempo, the lyrics, the melody, the title, the story, the mood... everything about this song just goes together.
18.
Simple Man
,
Lynyrd Skynyrd
The Southern man's anthem. I would have picked "Freebird" but I think it's time has been over for a long time now (though I still like the song in its own right). "Simple Man" lays out exactly what a real man should be and how to lead a good life. I can guarantee you it's one of the most popular fireside songs in America and the most requested by truckdrivers.
17.
Shooting Star
,
Bad Company
A re-make of sorts of Chuck Berry's "Johnny B. Goode", it takes a slower approach to the timeless tale of Johnny rising to rock and roll stardom. Paul Rodger's vocals are nothing short of spectacular and the guitar couldn't be more right for this song. I love how there is a lot going on in the story but the song is moving at a slow pace; it's a very cool effect.
(*Note: The preview for this song is not correct. I don't know what song that is but it's not "Shooting Star")
16.
Fly to the Angels
,
Slaughter
Unlike most 80s (or in this case 1990) power ballads, "Fly to the Angels" came straight from the heart. Mark Slaugher wrote the song about his girlfriend that passed away and his emotion comes through really well in the song. With an uplifting chorus and a complementary solo, this song manages to be one of the few songs about losing a loved one that seems to lift your spirits. Well done, Mark Slaughter, well done.
15.
Dreams I'll Never See
,
Molly Hatchet
Much like "Freebird" and "Stranglehold", this song seems to be one long, epic guitar solo. And that's the thing: the guitar solo makes the entire song. It's one of those solos that you can learn by sound and know every little note that's coming. It's kind of a surprise coming from the rough and rowdy southern rockers, but it works. It knows when to be quiet and when to smash you upside the head. This song should be near the top of Southern Rock anthems.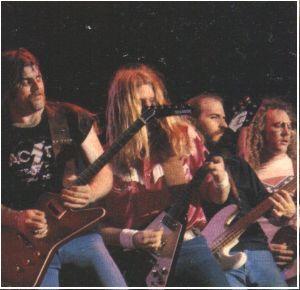 14.
Against the Wind
,
Bob Seger
The piano parts add a really nice effect to this song. This is a great walking song for when you need to just go for a walk and think about stuff for awhile. As cheesy as that sounds, it actually works.
"Agaiiinst the wind... We're still runnin' against the wind..."
13.
Things I Miss The Most
,
Van Zant
A newer song that's had a lasting effect on me. Made by the Van Zant brothers (of .38 Special and Lynyrd Skynyrd fame), this song lets the listener hear what the singer is really thinking about when he's up on the stage (Home Sweet Home). Such strong imagery with lines like
"That last half mile of dirt road,"
and
"That ol' tractor in the field."
(Ok, maybe not for some but I get a lot out of it. Maybe you just have to hear the song to hear what I'm talking about). "Things I Miss the Most" shows the Van Zants had a knack for southern anthems and timeless southern classics.
12.
You Can't Always Get What You Want
,
The Rolling Stones
This was the first Stones song I ever loved that wasn't "Start Me Up" or "Satisfaction". I first heard it on the Rolling Stones Rock and Roll Circus and have loved it ever since. The clean-picked opening, Mick Jagger's "cherry red" lyrics and the church choir backing... it all adds up to a great song that will be around for a long time to come, even longer than the Stones themselves! (Who can't seem to stop rolling!)
11.
Orion
,
Metallica
The greatest heavy metal instrumental ever written, composed by the late Cliff Burton. I had a conversation with someone one time about how great this song is, and we both agreed that the part that makes it really ascend above other instrumentals is the bass line/solo that kicks in at exactly 4:00 into the song. It's the most cool, mellow bass line you'll ever hear paired with a solo that transcends Earth itself and takes off into the heavens. If you know the song, you know exactly what I'm talking about. Thank you, Cliff.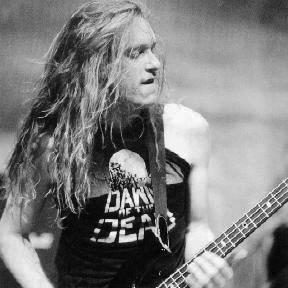 10.
Reelin' In The Years
,
Steely Dan
It's the chorus that gets me every time. I get pulled in by the lyrics and piano of the verses (
"Well you wouldn't even know a diamond if you held it in your hand,"
) and then I get lost in that dreamy chorus. The solo is great as well, even if it does sound a little cheesy in 2007 (like a Nintendo sound effect board). I saw Steely Dan perform this song live on the TV show
The Midnight Special
and it still held that magic sway. It's rare to find a song this wonderful (yes, wonderful), but Steely Dan really pulled of a classic here.
9.
Patience
,
Guns N' Roses
This is the song my girlfriend and I chose as "our song". It fits us perfectly because we have a long-distance relationship and the lyrics talk about a couple who is split apart (physically). The whistling througout the song adds a good dynamic, and the acoustic solo is a nice touch. Axl Rose saves his signature screech for the end of the song and the calming chorus of,
"Need some patience... yeeeeeaaaahhh...."
puts the listener at ease. Definitely a great couples song.
8.
Fat Bottomed Girls
,
Queen
I've had a particular affection for this song ever since my dad played it in the car from the time I was 8 or 9 years old. And all these years later, it still sounds just as good! The ultimate tribute to fat chicks, a tip-of-the-hat to big beautiful women, "Fat Bottomed Girls" is as timeless as they come. Freddie Mercury's razor-sharp vocals and spicy lyrics mix well with Brian May's hard rock guitar and Roger Taylor's methodical drumming. And how could I not mention the fiercest, most commanding line ever sung?:
"Get on your bikes and ride!"
7.
Bell Bottom Blues
,
Eric Clapton
Before you even start, I know this is a Derek and the Dominos song. But seeing as this is
my
list, I'm using
my
tagging, which is Eric Clapton. That being said, this is the first Clapton I can ever recall wanting to hear again right after the first time I heard it; it's basically the song that got me into Clapton. Is there a better 70s song out there than "Bell Bottom Blues"? I don't think so. The magnificent blues solo goes well with the soft chorus of
"I don't wanna fade away..."
I could listen to this song all day long; it puts me at ease like very few songs can.
6.
Ride On
,
AC/DC
The one slow song in AC/DC's catalogue, "Ride On" is Bon Scott at his lyrical best about the tough life a rock star lives on the road. From the chilling, spoken words of,
"It's another lonely evening..."
down to the whispered chorus of
"Ride on..."
, the song paints a sad but true picture of what Bon Scott's life was probably like. Add in a vicious, groudshaking blues solo or two from Angus Young and what you have is the surprisingly mellow side of AC/DC.
"And I ain't too old to hurry, Cause I ain't to old to die..."
Ride on, Bon..
5.
Take The Money And Run
,
Steve Miller Band
The old time story about Billy Joe and Bobbie Sue! What's great about this song is it gets in, it tells its story and it gets out. I know the entire story of how
"Billy Joe shot a man while robbin' his castle, Bobbie Sue took the money and run"
and how they're still runnin' today. The song has a great galloping beat and Steve Miller's voice is great as both a storyteller and a singer. It's almost like watching a movie in your head about two young lovers cuttin' loose.
"Go on... Take the money and run..."
4.
Won't Get Fooled Again
,
The Who
The ultimate revolution song. I love the lines,
"I tip my hat to the new constitution, Take a bow for the new revolution."
Pete Townshend's power chords are at their best here and oh my god, Roger Daltrey's scream at the end? FANTASTIC! Plus it has the greatest ending line of any song ever written: despite the revolution being successful, the song ends as we're left with the line
"Meet the new boss, Same as the old boss."
3.
Closer to the Heart
,
Rush
Alex Lifeson's intro has an enchanting sound to it, one of the most trancing intros ever. When Neil Peart "chimes" in and Geddy Lee starts singing, the song comes together really well. This was my first Rush song and therefore will always be my favorite. Using strong words like "forge" and "destiny" really get the listeners attention and the message of the song comes across quite clear. I love the way the chorus is sung as well, makes me want to sway back and forth while holding a lighter above my head.
2.
Hey Hey What Can I Do
,
Led Zeppelin
I spent $17 just to buy the Immigrant Song single online so I could have "Hey Hey What Can I Do", which was the B-side. That's how much I love this song. I couldn't think of a more perfect "coda" on Zeppelin's catalogue, seeing as this song wasn't "offically" released until the early 90s. Jimmy Page's acoustic guitar is amazing here, as is John Bonham's drumming (especially those hits towards the end!), but the best part is when Robert Plant finally wails,
"Hey hey, what can I do?!"
after waiting for it the entire song. Definitely the best song ever written about being in love with a street corner girl.
1.
The Wind Cries Mary
,
Jimi Hendrix
This is my "chill out" song. I put in this gem from Jimi whenever I need to slow down and just go away for awhile. The song doesn't seem to take place in the present; it takes place in a time all its own. That bouncy guitar part (you know the part, bu-bum buuumm after Jimi sings the verses) hooks me every time I listen to this song. The bass and the solo suck me in even further. And Jimi's vocals are so relaxing, like when he sings,
"A broom is drearily sweeping up the broken pieces of yesterday's life..."
; there's something about the way he sings it that takes me out of time and space. I really can't explain it in words. Mellow, soothing, relaxing, magic, calming, cool, funky, timeless, majestic, bluesy, unique, soulful... all these words still can't do it justice. There's something about it that lets me know the world will be ok no matter what. And that is what makes it my most timeless song ever.