Track:
Anyango
(free download)
Artist:
Extra Golden
Album:
Thank You Very Quickly
(09 Mar 09)
Tags:
rock
,
world
,
fusion
,
benga
,
funky
,
my gang rotw
Last.fm
Oh. Em. Gee. I don't know if you know but there's a war on. Well, when I say war, I mean a virtual one online. Last.fm have proposed major changes to subscriptions and access to radios. Subscriptions in the UK will double to £3, US will pay $3 and Germany €3 though all three will still have a free service as they do now. The rest of the world is being asked to subscribe €3 or the equivalent to listen to radios. So the rest of the world still gets a free service, just they have to pay for radio. The reason for the change is advertising in UK/US/Germany is lucrative enough to subsidise running costs, but unfortunately, advertising in the rest of the world is not. If you've missed the details, which you most probably have, see the official
blog
or visit
Forums
.
For now, the decision to introduce these changes this week have been postponed. A good thing as that gives people a chance to find out about it.
The issue is serious enough to be debated heatedly across the web. No one doubts it's the economy that's brought this about, but there is plenty of discussion on whether it is a wise move or not. The main core of the argument is this: if something that used to be free can't be free anymore, should we support it and keep it going or is it time for another business model? Last.fm's proposal puts a foot in both camps by making key changes in both areas; it has adapted both its service and its business. By being the first to seek non-ad-based revenue to keep it global and available to as many as possible, it sets the tone for other free services who are struggling to do the same. (you may have heard Twitter and Facebook have proposed monetising their sites by introducing subscriptions) And if that happens, we're looking at an entirely different internet. So maybe war isn't the right word, maybe revolution is. Or a proposed one at any rate.
Let's pretend it's not happening. With this week's reco, I am handing out rose-tinted sunnies and for 6 minutes, I propose we take a time out.
No video this week. I hope I've done one better by bringing you this free download.
Someone describing Anyango in Amazon
says it "sounds like
Jimmy Page
grooving with
Ali Farka Touré
, a thrilling combination of different accented guitars calling and responding over explosive percussion."
The music blog
I Rock Cleveland
writes, ""Anyango," the first song to emerge from their third full length, Thank You Very Quickly, is rhythmic, funky, and has one smokin' hot, Southern guitar lick, cutting in and out of the mix, like someone mashed
The Allman Brothers
into an unsuspecting, but oh so willing, cut off an obscure world music compilation. Globalization never sounded so good."
They're both great descriptions. It sounds like classic rock, or blues rock maybe, mixed up with an African influence. On the other hand, you could also say it's a Kenyan
benga
band mixed up with American rock. Either way, you'd be right. And it doesn't really matter. What does matter is it's the real thing on both counts.
Extra Golden
is the joint project of two bands:
Ian Eagleson
's band
Golden
and
Extra Solar Africa
(the original band of
Otieno Jagwasi
and
Onyango Wuod Omari
).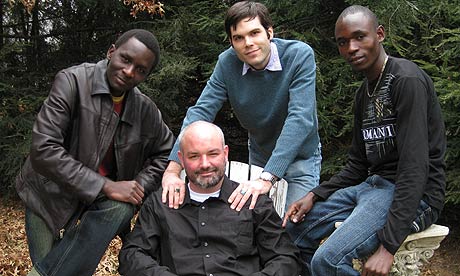 Writing in The Guardian
recently, Ian Eagleson explains how this hybridisation differs from other examples, such as
Paul Simon
's
Graceland
. He says, "musicians working in disparate circumstances may have much more in common than one might expect. The music of Extra Golden's three albums was made possible and inspired by what its musicians had in common, and not the idea of a conscious juxtaposition." Working from the point-of-view of what's shared sets the foundation for the band. From here, instead of being daunted by the different styles of playing, the band members looked to complement each other. So instead of a Western-based album with exotic influences, we are offered a clever blend of both.
The music will appeal to people who enjoy artists such as
Amadou & Mariam
. It's that joyful, infectious, celebratory nature of the music that's so attractive. The classic rock is the kind that's familiar and comforting, it's music we all know, and the varying African styles at times sound like those we know and other times not, giving us something different to enjoy without being too difficult. However, there the familiarity ends.
Aural States
writes, "Without verse-chorus-verse song structures, without polyrhythms, and often without English lyrics, this band has more to do with hard bop and fusion of the 50s and 60s than anything contemporary."
It's music that brings people together and is ideally suited to outdoor summer festivals. It's got sunshine through and through. Let's put real life on hold another 6 minutes and play it again.
MySpace
Babs
My Gang
Reco of the Week archives
Admin - Stats as of today:



Last.fm listeners of this track - 409
No. of plays scrobbled in Last.fm - 796
Position in Last 7 Days: 1 / 63
Position in Last 6 Months: 25 / 5



Stats after 7 days:



Last.fm listeners of this track - 444
No. of plays scrobbled in Last.fm - 881
Position in Last 7 Days: 1 / 46
Position in Last 6 Months: 5 / 140


317 Unique Visitors
403 Page Views


Unique Visitors
Page Views