Masquerade: A New Year's Music Art & Fashion Event @ the Birch Theater
December 31st 2009
San Diego, CA
First 200 guests receive a free mask!
Lineup:
Delta Spirit
,
Get Back Loretta
,
The Burning of Rome
,
The Hot Moon
, Caburlesque Kittens,
TheoryJean
and much much more!
Visuals & Graphics provided by
HiFi5 Entertainment
facebook event link
Models in Motion @ W Hotel
November 21st 2009 / 7:00 - 2 am
with DJ VanKraft, Ayla Simone, TheoryJean, & much more!
San Diego, CA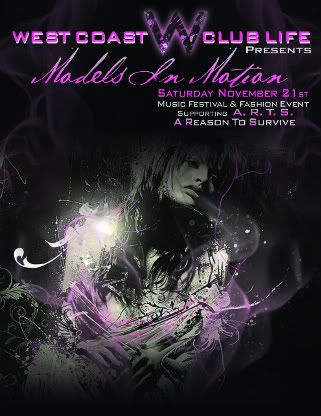 Allure @ Se Hotel
November 13th 2009 / 7:00-2am
Models, Body Painting, DJ EJ, TheoryJean & much more!
San Diego, CA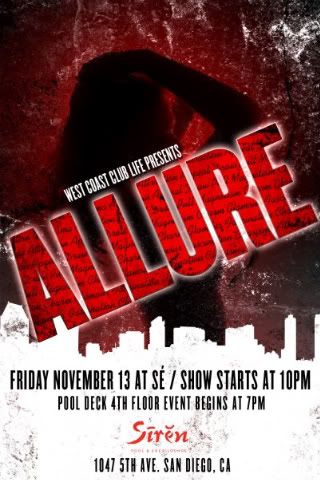 Rupa & the April Fishes Live! with TheoryJean
Wednesday, November 4, 2009 / 9:00 PM
The Loft, La Jolla, CA
Regular: $12, Student: $5 advance
"Bon Voyage!": June 4th, 2009, La Jolla, CA @ The Loft
The Loft will be having its last big event of quarter, hosted by the International Center and I-House on Thursday, June 4th. Come bid Adieu to our friendly mates from overseas as they take off back to their homes far, far away.
Free international food and sweets tastings!
Performances by CDA and ERC's SLAM performers!
Funky world beats spun by TheoryJean and DJ Ji-San to end the night, playing all the best from Europe's hottest clubs but with some So-Cal style
event type: open club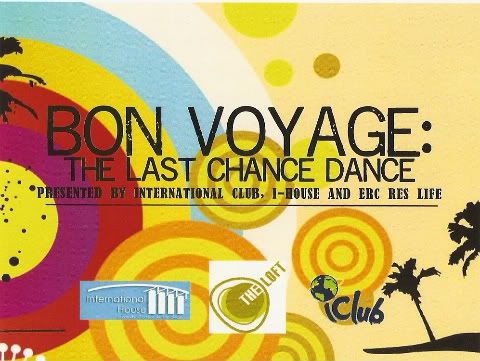 Forgive Me Father For I Have Synthed: May 22nd, 2009, La Jolla, CA @ Porter's Pub
80's & Ol Skool Funk & Disco Breaks!
Go-Go Dancers, Live 80's Band, Costume Contest w/ cash prize, specials on food, drinks & much more
doors open at 8, $5 cover, all ages
event type: open party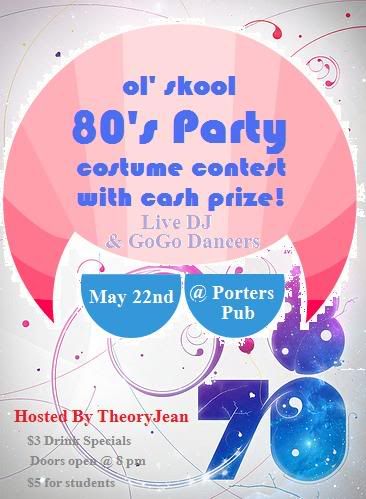 Le Real: May 14th, 2009, Long Beach, CA @ Shannon's on Pine
hype up and get ready to get down for our 1st Annual red carpet affair entitled "Le Real."
Photography will be taken on the carpet, so don't be caught wearing last season's steeze. Come looking like the ballers and balletts you all are!
Mackingwell will be hosting a premiere of its latest work, including the music video for the latest single from Huntington Beach based band Stuntditch, a demo reel screening, and the director's cut of our Converse commercial campaign.
Complimentary champagne toast and appetizers, and entertainment will be provided by one of San Diego's finest D.J.'s, TheoryJean, bringin'' the best in House & Electro from all over the globe.
www.last.fm/user/theoryjean
www.mackingwell.com
event type: open club
April 24th, 2009, La Jolla, CA @ The Loft
Earth Awareness Week Party
Model show, free entry 9-12
event type: open show
April 1st, 2009, Montrose, CA @ The Blue Moon
Live DJ set!
event type: open club
March 26th, 2009, Oceanside, CA @ Harney Sushi Bar
DJ set from 8-11 p.m. funk, disco breaks, ol skool, electro, house
Harney Sushi Club
event type: open club
January 1st, 2009, San Diego, CA
top40, hip hop, dance, house & electro
event type: open party
December 11th, San Diego, CA @ the Kava Lounge
Holliday Office Party! come dressed in your work clothes and a silly hat. The Office (English Series) will be screening all night. Jam with TheoryJean (FRA/LA/SD) and
DJ Rustique
(FRA) to the best Euro/American fusion of 80s, Disco, Dance, House & Electro music at the
Kava Lounge
(click on link for directions) .
event type: club party, $5 cover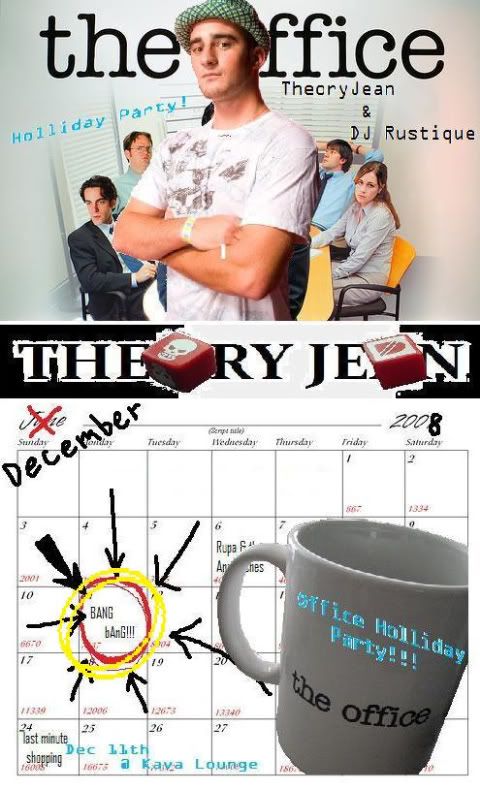 November 21st, Santa Monica, CA @ the V Lounge
Cutloose
, DJ Nightlife, &
theoryjean
rockin the best funk, disco breaks, ol skool hip hop, dance and house music southern california has to offer!
www.cutloose.com.au
event type: open club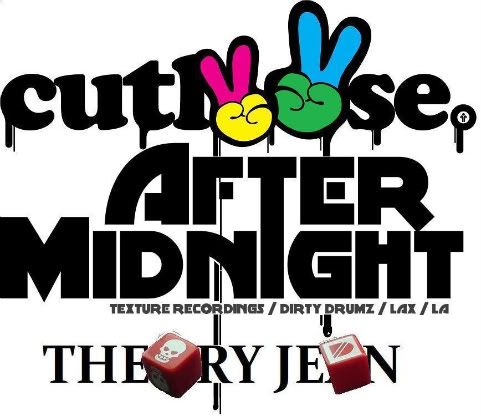 November 5th, San Diego, CA @ The Bondi
Dj Cutloose & TheoryJean Live rockin the best 80's, disco, funk, house, breaks, and ol' skool beats to get your body movin!
after 8 years of bush, we definitely need to party! come for an amazing night at Bondi in the heart of beautiful downtown San Diego
event type: open club
The Bondi, San Diego
Dj Cutloose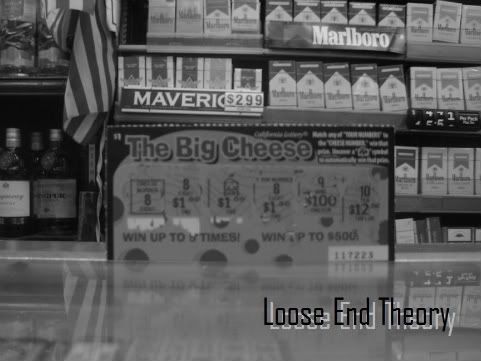 September 25th, San Diego, CA @ RA Sushi Bar
80's night! come for a night of great food, company, and music as we bring back some of the best hits from the 80's! RA sushi is located in the beautiful gaslamp district of san diego on 474 broadway.
RA shushi site
event type: open bar
ouch! $2200 dollars out the window... please dont knock my table over again!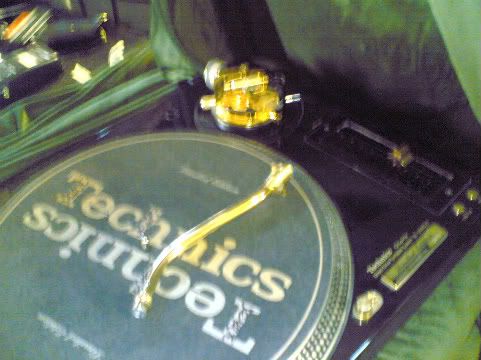 September 15th, Encino, CA @ Stevie's Creole Cafe
come for a night of dancing and various hip hop acts
event type: open club
August 21st 2008, San Diego: Fashion Show @ the W Hotel
runway + fashion show, starting at 7 p.m. come for the models and stay for the dancing in the heart of downtown SD upon the beautiful rooftop of the W Hotel. dress nicely and contact for guestlist. this event will be streamed live on local TV and on the web.
event type: guestlist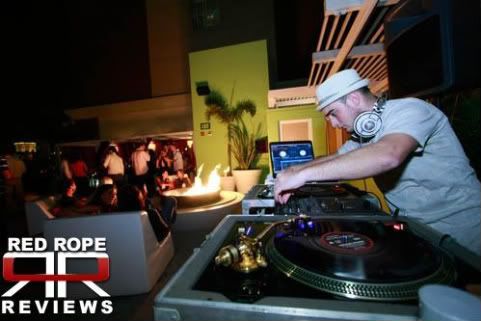 August 20th 2008, San Diego: Mobile Series @ the W Hotel
come for a relaxing night with smooth lounge sounds, champagne/cognac and cigars on the house.
event type: guestlist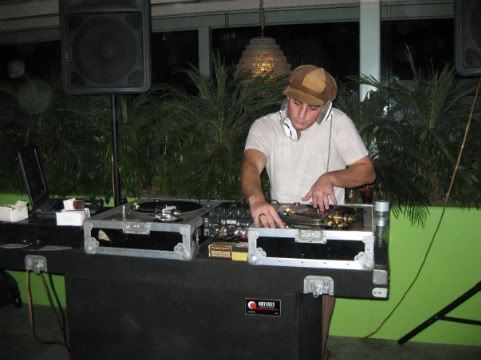 July 19th 2008: RomoPalooza 2008
2 bands, blow up slip n' slides, open bar, ice luge and plenty more
event type: open party
May 31st, 2008 @ the Flicker Room, Casino Morongo
LXA formal
event type: invite only
Saturday May 10th
Glendale, Ca.
event type: open party
Saturday May 3, 2008: Theme Party
2001 Wilbur, San Diego 92109
event type: open
Friday, April 18th, 2008 @ the Proud Bird, Los Angeles
Alpha Phi LMU Banquet
event type: invite only
Friday, April 11th, 2008 @ 6711 Trigo Rd, Isla Vista: Pink and Green Techno Party, Because its all about the build up
event type: open
Thursday, February 7th, 2008 @ Delanzo's by the Sea: Rumble in the Jungle
Alpha Phi - LMU
event type: invite only
Saturday, October 6th @ Billy's in Montrosse: Skate n Snow demo brought to you by Sector 9 co.
playing the very best from the underground hip hop scene. Come meet some of your favorite pro boarders! artificial snow will be imported and ramps and pipes will be setup for a snow competition. be sure to bring your cameras and sharpies.
check out sector 9 here!
join us afterwards for October Fest!
event type: open
Friday, August 31st @ the Woodland Hills Marriott Ballroom: A Triple X event - Boogie Nights
spinning the best in 70s, 80s, and top 40 (the guy who did my lighting was the same guy who did dj tiesto's lighting at a rave a few weeks prior, this photo is from just a sound check)
event type: open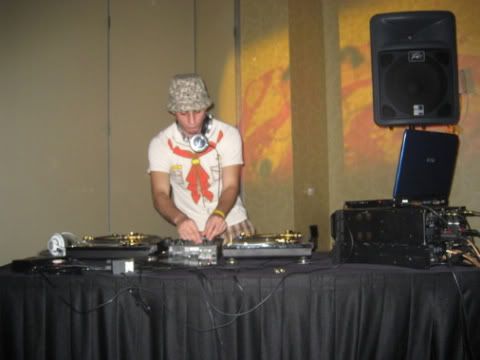 Friday, june 1rst @ The Vu, Santa Clarita
Fuze presents: Bassics.
A local drum n bass & hip hop event featuring Dj Linkin, Tention, & TheoryJean
event type: open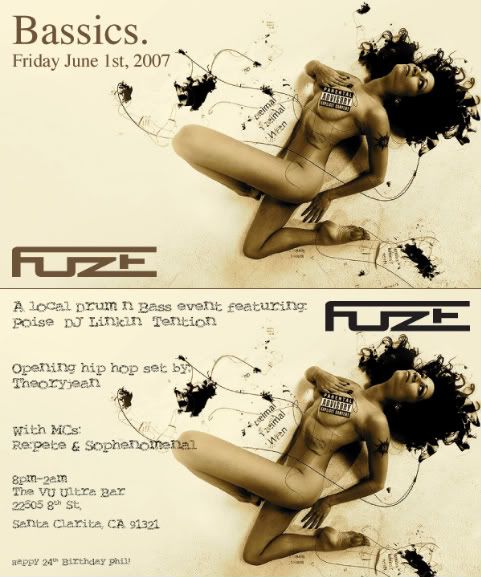 Friday, May 25th @ Boon's Place downtown L.A.
come for an all night performance
event type: open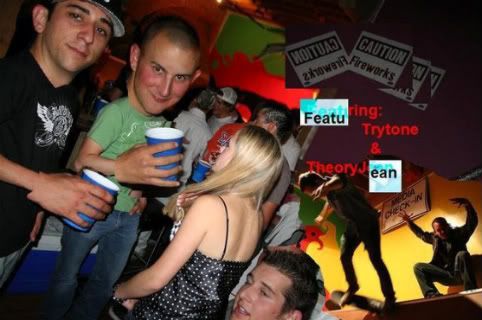 Saturday, May 12th @ the valencia house - No Shoes, No Shirts, Full Service!
:
featuring dj kenji, poise, grand daddy born, dj tention, theoryjean, and many more, spinning the best of 80s, hip hop, house, electro-rock, jungle, drum n bass
come early @ 8 p.m. for the Gourmet 3way Cookoff
event type: open party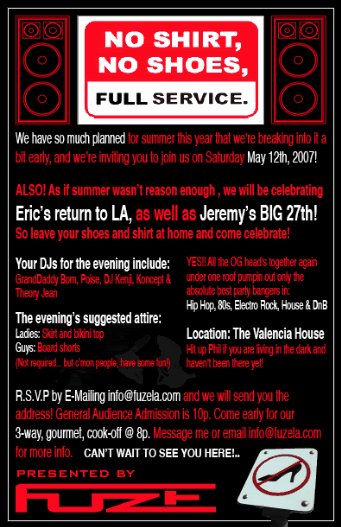 Wednesday, May 2nd @ The Vault, Pasadena: Something Sexy
Walk the Line Events Presents:
Something Sexy
hours from 9p.m. to 1a.m. playing the best in RnB, hip-hop, and house music. Cabaret show. $5 cover, $3 drinks, 21 +, dress code enforced. contact me if u want to get on the guestlist and get in free before 11p.m. (call for more details) come support!
the vault is located at 2675 East Colorado Blvd, Pasadena (old town)
event type: open club
Friday, April 13th @ The Marriot, Manhattan Beach
:
LMU Alpha Phi Formal
event type: closed/guestlist
Friday, april 6th @ the terrace, Pasadena
: opening/DJing for
Scarub
of
Living Legends
shooting a music video for his upcoming album.
event type: open concert