Just like last year, over this year I checked several bands out and listened to the whole back catalogue, which hampered my objectivity concerning records of 2013 - if last year was the year for checking out some
pop-punk
bands and
thrash legends
, this year I was busy with
Jay-Z
,
Kanye West
,
Bon Jovi
,
Dagoba
,
Ektomorf
,
Soulfly
,
Machine Head
,
Bullet for My Valentine
as well as diving into some old-school Christian
hard rock
and
metal
artists such as
Deliverance
,
Angelica
,
Saint
and
Seventh Angel
. Oh and another occupation of mine was checking out everchanging collection of free downloads at
Noisetrade
.
Nevertheless, some of the records of 2013 left quite a lasting impression upon me.
Here are some
Honorable mentions
:
*
Sepultura
-
The Mediator Between Head and Hands Must Be the Heart
*
Relient K
-
Collapsible Lung
*
Defeater
-
Letters Home
*
My Epic
-
Behold
*
Beautiful Eulogy
-
Instruments Of Mercy
*
Dessa
-
Parts of Speech
*
Deliverance
-
Hear What I Say!
*
Benea Reach
-
Possession
*
Soul Embraced
-
Mythos
*
Fallstar
-
Backdraft
*
The Burial
-
In The Taking Of Flesh
*
Five Iron Frenzy
-
Engine of a Million Plots
*
Kvelertak
-
Meir
*
All Pigs Must Die
-
Nothing Violates This Nature
Top Christmas album
Bad Religion
-
Christmas Songs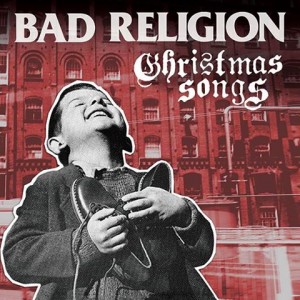 I know that
Bad Religion
stand against anything that has to do with organized religion, hence the name of their band. This record. however, was a treat indeed. There is no mocking of any sorts of any of the Christian hymns of the birth of the Savior. And that makes the record even more enjoyable - a true
pop-punk
greatness with Christmas anthemic value!
10
Philip H. Anselmo & The Illegals
-
Walk Through Exits Only
A rather surprising appearance in my top 10. Honestly speaking, I've been trying to follow the tumultuous and quite exceptional history of the vox of
Pantera
. And if I find his
Pantera
history rather acceptable and enjoyable, some of his other ventures are not my cuppa tea. When it comes to his stint with The Illegals, it's a different story - from their two song split with Warbeast (released earlier) to their full-length it's a beast to be reckoned with - a collection of pummeling agnst. Words cannot describe the intensity.
9
Close Your Eyes
-
Line In The Sand
When Shane Raymond left CYE, I was somewhat skeptical about the future of the band with the new vocalist - Sam Robinson (ex-
Blessed By A Broken Heart
. I really enjoyed their debut full-length. Granted, it's different, but it's a great treat, nevermind the difference. Songwriting is tight and so is musicianship, which is only complimented by the new voice of the band.
8
Living Sacrifice
-
Ghost Thief
My favorite band of all time released another stellar record, but it's a grower, and that is why, perhaps, it does not top the list. The material is definitely darker than their previous efforts, which is understandable since the subject matter of the record is death. I am still torn about
Ghost Thief
, since I kinda feel "obliged" that I have to like it, but it's not totally there yet.
7
Extol
-
Extol
What a great comeback this record has been! It's right there along the lines with
Undeceived
,
Burial
and
The Blueprint Dives
. Peter Espevoll,
Ole Børud
and David Husvik are back, and hopefully they are back to stay for a number of stellar records to come. The musicianship is exactly what one would come to expect from these Norwegian pillars of progressive metal.
6
Brett Detar
-
Too Free to Live
The great thing about Brett Detar is simple, "He's golden" (well, at least in my book). Whether it's his stint with
Zao
(
Where Blood and Fire Bring Rest
) or his brainchild of
The Juliana Theory
. Pretty much every track is memorable enough to want to go back to and play it again, particularly "
A Soldier's Burden
," "
Tried To Hate The Angels
" and "
I Can See The Darkness
"!
5
Everything In Slow Motion
-
Phoenix
The megamind behind EiSM, Shane Ochsner, has done it again.
Hands
was quite an endeavor, which has been tickling my ears since it came out, and Shane Ochsner's new piece of work is a logical follow-up to his
Hands
's albums. A great addition to the whole record is the appearance of
Blindside
's
Christian Lindskog
. It's hard to pigeonhole
Phoenix
, but it leaves you with a feeling that it needs not be pigeonholed - at times it sounds like
Pelican
, at others like
Thrice
, but in its entirety it's a beast of its own in a niche of its own!
4
Dynasty
-
Beyond Measure
Let's be honest, I really enjoyed this fast-paced in-your-face
hardcore
early in the year when it came out (back in January). As time went by I moved on to other musical interests of mine. But the
Terror
-like impact was undeniably left on me. Maybe it has to do with the rich guest appearances on the album - from the aforementioned
Terror
to
Sleeping Giant
to
Agnostic Front
to
Stick to Your Guns
to - surprise, surprise! -
Wu-Tang Clan
, or with my love for
hardcore
, whatever it is these SoCal natives whet my appetite, they delivered a record to be reckoned with!
3
Newsted
-
Heavy Metal Music
For unknown to me reasons
Jason Newsted
had been my favorite
Metallica
member until he was somewhat forced to quit the multiplatinum
metal
machine. Luckily I had a chance to see the band live (when JN was still in the band) back in 1999 in Bucharest. I was checking on the four-stringer from time to time to see if any of his multiple endeavors were worth checking out. Finally, I saw his new brainchild - entirely his child, "appropriately" titled
Newsted
. In January 2013 the band released an EP titled
Metal
, and in August full-length was released also. Although the titles are something to be desired when it comes to creativity. The content of
Heavy Metal Music
feels like this is exactly what
Metallica
has been missing - a straight unadulterated Heavy Metal Music. I've enjoyed what they've done since JN left, but - perhaps I've been quite nostalgic - it just hasn't been the same since
Metallica
/
Load
/
Reload
.
2
Altars
-
Something More
If
Conclusions
, released in 2012, was a standard
FACEDOWN RECORDS
metallic
release with a pinch of
hardcore
, which rendered them rather generic,
Something More
is a completely different matter - it's pure
hardcore punk
with soaring guitar melodies and singalongs and sprinkled with a clever dose of
nu metal
. It's truly a record to return to again and again and again.
1
Shai Hulud
-
Reach Beyond the Sun
I don't remember how I was introduced to
Shai Hulud
, but I'm thankful I was. Their first two records and numerous splits of this
Matt Fox
's brainchild are nothing short of breathtaking. Although
Misanthropy Pure
of 2008 did not quite cut it for me, I was somewhat skeptical about
Reach Beyond the Sun
and whether it would be on par with
Hearts Once Nourished with Hope and Compassion
and
That Within Blood Ill-Tempered
. The record was a double-blessing since it saw the return of Chad Gilbert as the vocalist for the band (even if his return is only that of the studio value). I'm positive RBtS will stand the test of time just as have their previous efforts!