Bye Bye Beautiful
I'm not glued to Facebook or Twitter and
Nightwish
's homepage is not one of my permanent tabs, so I guess that's why I didn't know about this until two weeks after it happened.
But I know now, thanks to the update picture on
Nightwish
's Lastfm page with
Floor Jansen
.
I am beyond words about this. I now understand how the
Tarja
holics felt.
Now, I'm not crazy. I am a
Nightwish
supporter first and foremost and whoever they bring in now I will try to love as much as the past two. But I found
Nightwish
right after the
Tarja
split, so I always loved both singers. I never though Anette deserved the crap she got; she really was trying to please. I also thought she was a real sweetheart. I devoted my time to defending her, and now she's gone after only two albums.
Tuomas, are you becoming Morten Veland? A new singer for every album, a la
Sirenia
(though hopefully
Ailyn
will stay for a third album...yes I love her and their sound;
Enigma of Life
is my favorite
Sirenia
album -- sue me)?
Now, according to the rumors, the band came to this decision after Anette fell sick and couldn't do the Denver, Colorado show. She became upset when the band decided to bring in the girls from
Kamelot
to perform in her place.
Okay, so Anette seems like an arrogant diva here, just like
Tarja
seemed near the end, putting her feelings ahead of the band's needs. But take a minute and empathize. Her self-confidence has always been low given that she replaced
Tarja
, knowing full well she didn't have that operatic ability. Tuomas took the band in another direction with Anette, but some of the rabid
Tarja
fans still couldn't take it. I'm pretty sure they threw things at her during one show a few years ago. So for her to realize that the band was going to perform anyway, while she's sick in the hospital by herself in a foreign country, and everyone she knows is at the concert, that's got to sting. She probably felt like they were throwing her away because of her illness, something she couldn't help. She probably already felt disposable given that people are
still
whining to bring
Tarja
back after seven years.
Side note: By the way, for people who just cannot get over what happened seven years ago:
Tarja
was going to
QUIT
after what would have been her "
Dark Passion Play
" anyway.
Nightwish
is Tuomas' baby and he was not going to let her tell him when to stop. If life had gone on
Tarja
's way,
Imaginaerum
wouldn't exist, let alone plans for an eighth.
She is not coming back, nor would she if she hadn't been fired. Deal with it.
I admire her vocals, but saying "I'm not surprised" to this news was just rude. Graciousness, diva, graciousness. Be the better person.
Now, I understand how the fans feel, too. They saved up money to see their favorite band who might never come to Colorado again, given that they are from
Finland
. I get it. But you can't pretend that you've never had selfish, self-doubting feelings before. Anette is human. I was very upset when the closest they came to me was Philadelphia, almost three states away, and I was in the middle of my fall semester. As an English major, I can't miss a single reading assignment or I'll fall way behind. So I couldn't even consider going.
Now I'll never get to see Anette perform with them. I'm hurt by this. The way they revealed the fact was very abrupt. "Oh, she's better! We'll be performing tomorrow!" Next day: "Yeah, we've decided to part ways. Sorry!"
Seriously,
Nightwish
?
Now, on to
Floor Jansen
.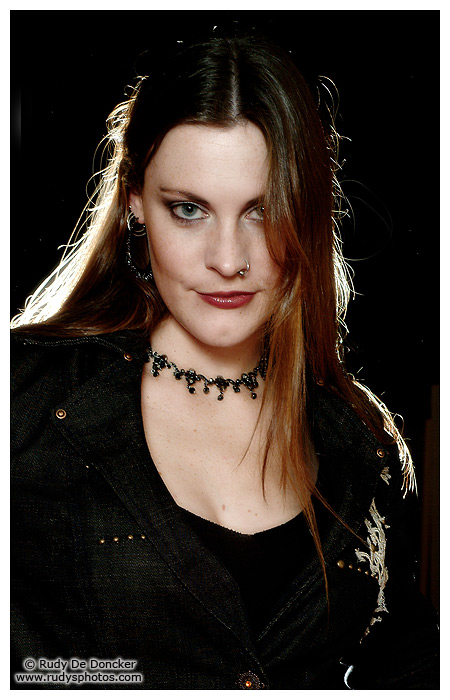 I loved her with
After Forever
. I love her with
ReVamp
. But these bands were hers. I first heard of
Tarja
with
Nightwish
. I first heard of Anette with
Nightwish
. I know bands sometimes split or share members, but every time this happened, I didn't care or know about one of the bands involved, i.e.
Atrocity
and
Liv Kristine
of
Theatre of Tragedy
becoming
Leaves' Eyes
. But here, (as with
Delain
's Martijn leaving
Within Temptation
), someone had to leave one band to be with the other. Liv is no longer the vocalist of
Theatre of Tragedy
. To borrow a vocalist from a well-established band to be the new singer for another well-established band
at the same time
feels strange to me (but it can work; see Christian Liljegren of
Divinefire
,
Audiovision
, and
Golden Resurrection
).
Yes, I know, she's only temporary for the rest of the tour. But we don't know how this will pan out for the future. Why take a new band photo with someone who's only filling in to finish the tour?
She might decide she can handle both
Nightwish
and
ReVamp
. And I do think she has the vocal ability to handle both Anette and
Tarja
songs. But her style is more power and less symphonic. I don't know how well she'll fit in.
Another rumor is that Tuomas has been talking to Floor since last November (2011) about coming in for the end of
Imaginaerum
US tour as a replacement. Either we can assume he was already thinking about getting rid of Anette (regret?) or he was used to her getting sick / needing to take care of her young son and wanted a seasoned singer to support the band if need be. I want to assume it's the latter.
I have my own theory. How can Tuomas evolve past
Imaginaerum
, with such epic bombast and a silver screen debut? What more can he possibly come up with, especially with Anette? How can he evolve her sound further? The only thing he could possibly think of is to change singers again, or...combine bands. How much more "epic" could that be? NightVamp. Really, do you think he's not considering it? Another possible idea of his would be guest vocalists, a la
Delain
's
Lucidity
.
In all, this was very surprising news and I just wish both parties well for the future. Though…
I Want My Tears Back
. :P