Leader :
WilliamNl
Politique d'adhésion :
Ouvert
Créé le :
27 jui. 2007
Description :
For Marie Miller Fans from Fans!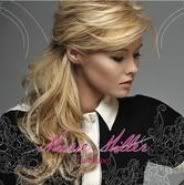 Marie Miller Originally from Copenhagen, her voice has lured songs from Guy Chambers,Shaznay Lewis and Lucie Silvas and production from Andy Duncan (Robbie/Kylie/Bowie), Adrian Hall (Britney) and Emre Ramazanoglu (Shakira and Mercury nominated Lou Rhodes).
Marie's musical career started early, leading to her first band Plush and a signing to EMI. But with ambition way beyond the Danish charts she soon realised the UK was the creative place to be so uprooted her recording career across the North Sea to London, setting up my own label, Small Dog via Universal.
In 2005 she sang on the Stonebridge mixes of Playground, which both reached the heady heights of no 2 in the MW club charts last year, a platform from which has been able to develop her album. Her determination to form a band around the songs on the album has enabled to form a formidable live outfit, a band that will hit the road this year.
For the eagerly awaited album (Fast Lane) you'll have to wait till later this summer, but as a taster the Shaznay Lewis/Guy Chambers penned "Love In The Fast Lane" has already been released, November 13th 2006 on Small Dog Records, via Universal, with a fantastic video "Fast Lane", inspired by Maries love of film and based on a Scene from Alfred Hitchcocks Vertigo.
So..her Single "Fast Lane" is Already in Stores!!You can Order Now!
These year She made a NEW Video Clip for My New Single "No Ordinary Girl" from the same CD.
You Can Watch Them Both!("Fast lane & "NO Ordinary Girl")
Official Last.fm FanSite
Marie's Last.fm Site:
Marie Miller from Denmark
WATCH HER VIDEOS!:
Marie Miller's Music Videos on Last.fm
LISTEN HER MUSIC!:
You can Listen here CD Tracks(CLICK on The CD Covers!):
Marie Miller's Albums Music
Some Tracks of the CD 'Fast Lane' you can Listen also here:
Marie Miler Music
Hope you Like Them!?
In 2007 you will see her playing live across Europe backed by her 4 piece band, the release of my debut solo album and further single releases...
Visit Also:
Official MYSpace Site
Official SoundClick Site
Official MySpace FansSite