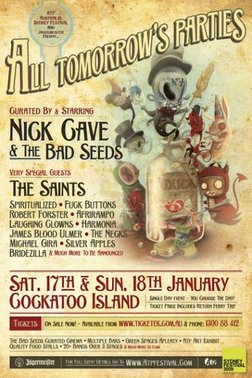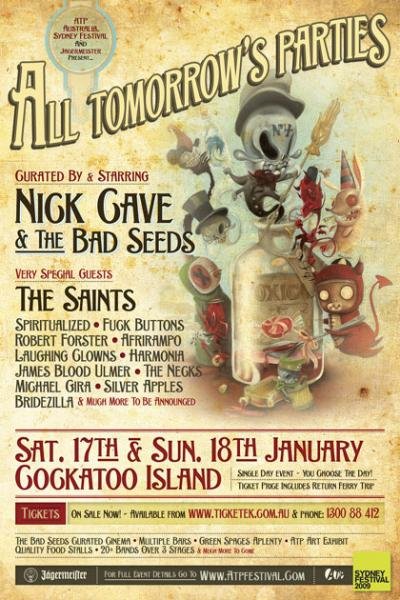 Date
Saturday 17 January 2009 — Sunday 18 January 2009
Location
Cockatoo Island
Sydney, Australia
Description
For Sydney Festival 2009, All Tomorrow's Parties will present a one day program on Saturday January 17, which will then repeated on January 18. Nick Cave & the Bad Seeds' All Tomorrow's Parties will feature special guests, The Saints – featuring original members Ed Kuepper, Chris Bailey and Ivor Hay - and include performances by seminal international artists including Spiritualized, Silver Apples, James Blood Ulmer, Harmonia, Fuck Buttons, Afrirampo and Michael Gira alongside Australians Laughing Clowns, Robert Forster, Bridezilla & The Necks.

Cockatoo Island is Sydney Harbour's largest island and has been a former prison, reformatory for wayward girls and a shipbuilding yard. The industrial and maritime landscape together with the picturesque backdrop of Sydney Harbour make this urban island the perfect setting for this unique event.
The full line-up for All Tomorrow's Parties at Cockatoo Island will be announced on November 5, along with the Sydney Festival 2009 program. Tickets will be on sale on Monday November 10 at 9.00am.