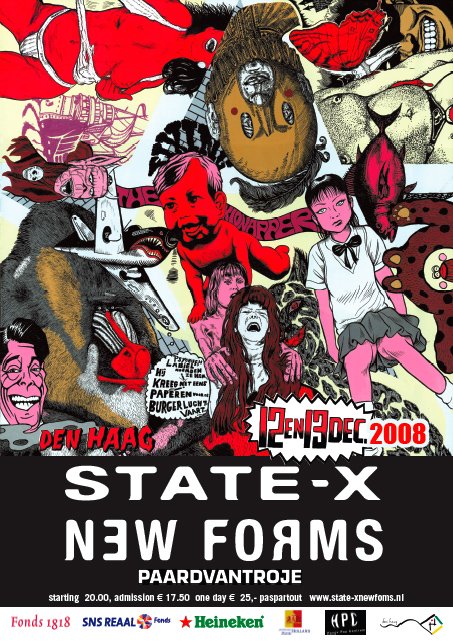 Date
Friday 12 December 2008 — Saturday 13 December 2008
Location
Paard van Troje
Prinsegracht 12, Den Haag, 2512 GA, Netherlands
Tel: +31 (0)70 7503434
Web: http://www.paard.nl
Description
The Hague heading off into a XXX-Xmas!
State X New Forms Festival: X-plore, X-plain & X-pect
Live Music venue Paard van Troje and Haags Popcentrum turn this years pre-Christmas festivity into a musical experience you won't find anywhere else. The 5th edition of the State X New Forms festival brings a broad mixture in music to the City of The Hague. Music that will make your ears say 'peep' and your heart go boom! On Friday December 12 and Saturday December 13 State X New Forms, a festival for avant-rock, cutting-edge electronics and media-art, is your place to be. Grab your earplugs for music from the likes of Bruital Orgasm, Inferno and Bonne Aparte and bring some tissues for beautiful tearjerkers brought to you by Lau Nau, Ignatz, Soap&Skin and Mugison. Dubstep, thrash, folk, avant garde, blues, electro, hiphop, drum n' bass, dance, rock, pop.. State X New Forms has it all, so where are YOU when the world goes crazy?!
X-plore, X-plain & X-pect!
The vision of State-X New Forms festival can be enumerated in the trinity X-plore, X-plain and X-pect. X-plore stands for new developments in experimental popular music, X-plain stands for the background and influences that led us to here and X-pect stands for the expectations in experimental popular music for the future. The programmers of State-X New Forms are well known for their ability to combine young, talented artists and bands who are undoubtedly considered as the initiators or godfathers of the aforementioned genres. A short summary of artists and bands that performed on State-X New Forms in past editions: Mono, Sonic Youth, Pere Ubu, Tortoise, Jamie Lidell, Plaid, Danielson, Chris Clark, Aphex Twin, Millionaire, The Locust and many, many more.
Developments
Nowadays, it is not easy to describe the developments within the experimental music scene. Renewing artists do not set limits to a specific genre, but draw inspiration from a very wide musical spectrum. Furthermore musicians do not occupy themselves only with music, but also move into the fields of video art, theatre and dancing. Even the dividing line between digital and analogue music – dance versus rock – has blurred. The programmers of State-X New Forms want to fulfil a guide function within these confusing but nevertheless welcomed developments, by trying to present a representative picture of the field.