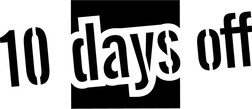 Date
Friday 18 July 2008 — Monday 28 July 2008
Location
Concertzaal Vooruit
Sint-Pietersnieuwstraat 23, Ghent, 9000, Belgium
Tel: +32-(0)9-2672820
Description
10 DAYS OFF 2008
Vooruit - SMAK, Ghent, Belgium
July 18th - 28th
www.10daysoff.be
myspace.com/10daysoff
The 14th edition of 10 Days Off starts on Friday, July 18th, 2008! As tradition has it, the Vooruit Arts Centre is the place to be, while the Ghent City Festival provides the bigger picture. The ever-expanding universe of club music will be explored thoroughly once more, which gives us another multi-coloured programme - house, electro, breakbeats, rock, drum 'n' bass, minimal, broken beats, nu-jazz, techno, funk, disco, dubstep, electro-house, you'll find it all at 10 Days Off.
The full programme will be announced early June, but in order to clench the initial thirst we already give you the 1st 10 names: DJ Mehdi, Dada Life, Anja Schneider, Dominik Eulberg, John Digweed, Richie Hawtin (celebrating the 10th anniversary of his M-Nus label), Tiefschwarz, Tocadisco, The Emperor Machine and Christian Prommer's Drumlesson.
ELECTRIFIED
The collaboration between the Vooruit Arts Centre, 10 Days Off and SMAK (Modern Arts Museum of the City of Ghent) will be expanded. Like last year, a single ticket for 10 Days Off or a 10 Days Off Membercard is also valid at SMAK during the 10 Days Off period, but it goes further than that: on July 18th and 19th Vooruit, SMAK and 10 Days Off present Electrified: a boundaries-breaking collaboration that wants to see day and night melt into a brooding mix of progressive artists who make waves in both the music and the arts worlds. Electrified unfolds 3-dimensionally in and around SMAK with an exhibition and an evening programme featuring musical acts, linked of course to the 10 Days Off night happening at Vooruit.
More info will follow soon on www.smak.be, www.vooruit.be and www.10daysoff.be!
TICKETS
Membercards (giving access to the whole of 10 Days Off) are only on sale via the 10 Days Off website, in limited amounts and only from April 8th until June 30th. Single tickets will be on sale as from May, via www.10daysoff.be.
Membercards and single pre-sale tickets are also valid at SMAK during the 10 Days Off period.
More info soon on www.10daysoff.be.