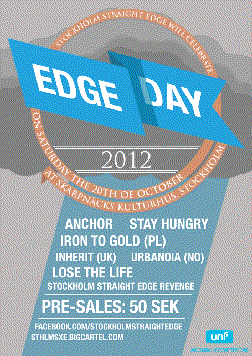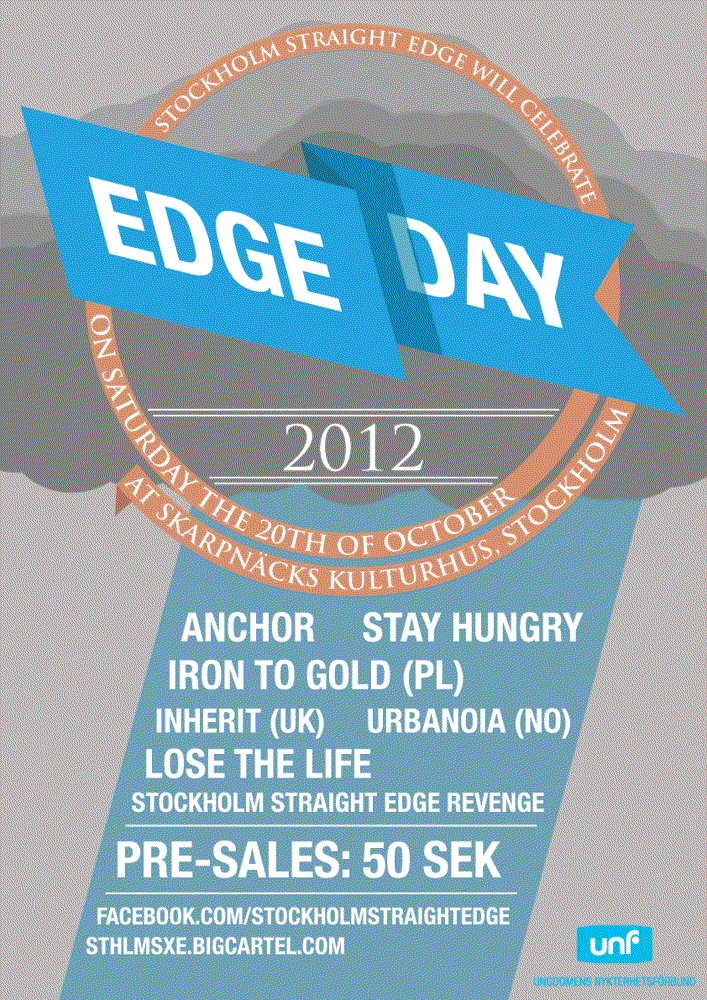 Date
Saturday 20 October 2012 — Saturday 20 October 2012
Description
Tickets: http://sthlmsxe.bigcartel.com/
Stockholm Straight Edge proudly presents EDGE DAY 2012
ANCHOR (SE/NO)
STAY HUNGRY (SE)
IRON TO GOLD (PL)
INHERIT (UK)
LOSE THE LIFE (SE)
URBANOIA (NO)
SSE REVENGE (SE)
When? Saturday the 20th of October, doors at 6 p.m.
Where? Torpet in Huddinge, Stockholm.
Tickets? 50 sek at http://sthlmsxe.bigcartel.com/
Drug free and all ages
Don't know what EDGE DAY is? http://en.wikipedia.org/wiki/National_Edge_Day
Airports in or close to Stockholm
Arlanda (major airlines)
Bromma (mostly domestic flights)
Skavsta (a lot of Ryanair flights)
Västerås (some Ryaniar flights)
Some of the bands will play the day before in Göteborg and Göteborg Straight Edge will arrange a caravan of vans and cars to Stockholm. Join them if you want to attend both shows.
Hopefully we can help you find a place to sleep after the show if you need it.
Anchor (SE/NO)
They're a well-oiled straight edge machinery on stage and every Anchor show is a joy for all your senses. This is the only Swedish date on this tour so don't miss out.
http://www.facebook.com/anchorofficial
http://xanchorx.bandcamp.com/
Recovery on Spotify: http://open.spotify.com/album/2aXTe7BDyLVCve4e12oezX
The Singles Collected: http://open.spotify.com/album/0g4vmbEx9s1WgNIH2LVDFF
Stay Hungry (SE)
You thought they were gone? You're wrong! What would Edge Day be without Stay Hungry? We don't even want to know.
http://www.facebook.com/stayxhungry
http://stayxhungry.bandcamp.com/
Iron to Gold (PL)
The project that was supposed to be nothing more than a demo recording and one show turned into a lot more. Their music is the perfect soundtrack to your stage dives.
http://www.facebook.com/pages/IRON-TO-GOLD/207086569303666
http://irontogold.bandcamp.com/
Inherit (UK)
Europe's finest crossover act with a unique sound much thanks to the amazing vocals. Fans of Cro-Mags shouldn't sleep on this!
http://www.facebook.com/InheritHC
S/T on Spotify: http://open.spotify.com/album/6uMrDcMdRB0SUSySnRfQDF
Lose the Life (SE)
Lose the Life is a political and thought provoking band from the city of Göteborg. Expect construction gloves and a set that leaves no one unaffected.
http://www.facebook.com/pages/Lose-the-Life/115947955105486
http://losethelife.bandcamp.com/
Urbanoia (NO)
Urbanoia is a new band from Stavanger, Norway. They play raw punk with thoughtful and political lyrics. If you're a fan of the d-beat you might just be into this.
http://www.facebook.com/pages/URBANOIA/239802552799288
http://urbanoia.bandcamp.com/
SSE Revenge (SE)
We usually just promote shows. Our revenge is a cover set. Featuring members of Gärdet crew and No Omega.
If you have any questions regarding the show, pre-sales etc feel free to send an email to sthlmsxetickets at gmail dot com