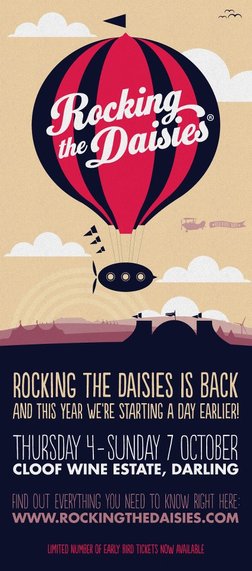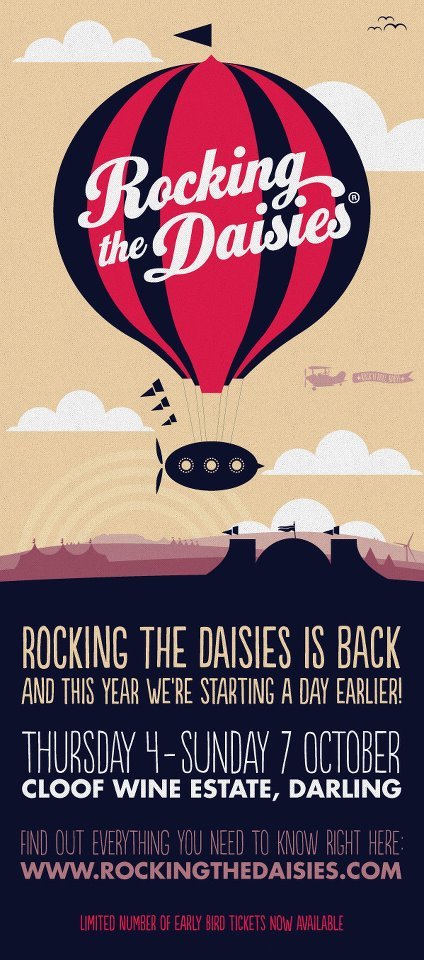 Date
Thursday 4 October 2012 — Sunday 7 October 2012
Location
Cloof WIne Estate
Darling (Cape Town), South Africa
Description
The build-up to the 7th Rocking the Daisies starts now! Get out your calendars and make the date with the best music festival South Africa has to offer. Thursday 04 - Sunday 07 October 2012- BOOM!
Each year there are changes, new additions and farewells, but one thing is for sure… it only gets better! The most notable change is that Rocking the Daisies will be opening the camping area on Thursday evening for all those keen party animals looking to set up before the weekend, plus there will be campsite entertainment to boot. Festival stage times have also changed with an earlier start on Friday and an earlier close on Sunday.
Ticket Prices:
· Full weekend: Thursday 04 - Sunday 07 Oct: Online R520 / Gate R600
· Full weekend: Friday 05 - Sunday 07 Oct: Online R520 / Gate R600
· Saturday & Sunday: Online R480 / Gate R550
· Sunday: Online R70 / Gate R70
· Early Bird: SOLD OUT!
· Cycling the Daisies: Friday 05 Oct: R350
· Campervans, caravans & mobile homes: R100 excluding your festival ticket.
BOOK TICKETS HERE NOW: http://www.webtickets.co.za/event.aspx?itemid=379632574
For those who want to rock out in style, the Heartbreak Motel, a division of Felix Unite Tented Camps, is offering luxurious accommodation. http://www.heartbreakmotel.co.za/
All artist, trader, volunteer and art installation submissions are open. Go to http://rockingthedaisies.com/contact/contact/
Our shiny new website http://rockingthedaisies.com/ has just launched and is full of everything you need to know! Keep going back for regular updates.
For updates and regular interactions:
Follow us on Twitter:
@rockingthedaisy, https://twitter.com/#!/RockingTheDaisy
And watch us on YouTube:
http://www.youtube.com/user/rockingthedaisiestv?feature=results_main
Watch this space for line-up announcements and other information.
Media accreditation will open beginning of July. If you have any media enquiries please go to: http://rockingthedaisies.com/media/
Brought to you by Seed Experiences (www.weareseed.co.za)