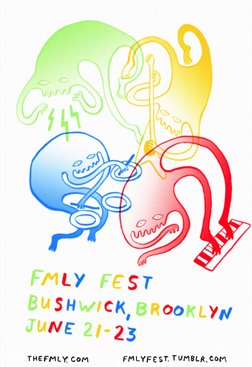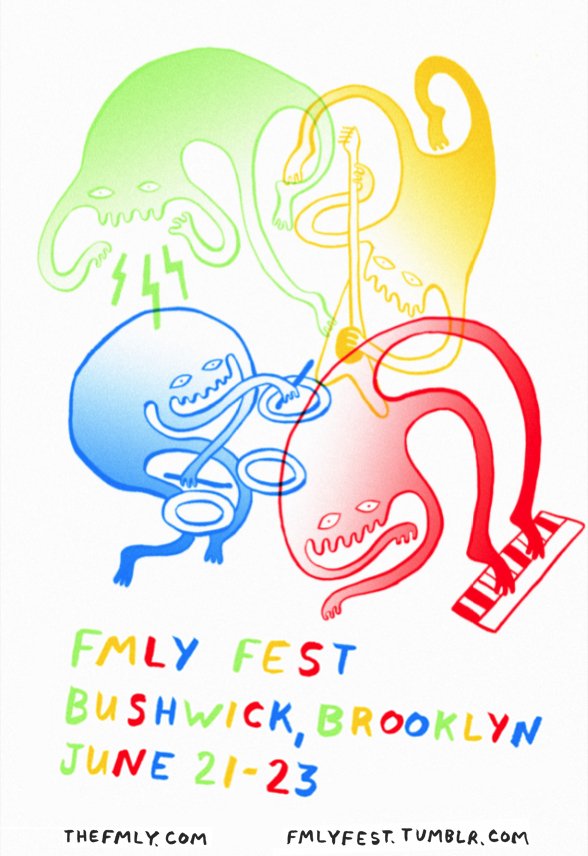 Date
Thursday 21 June 2012 — Saturday 23 June 2012
Location
Various Venues
Brooklyn, United States
Description
How can a community of geographically separated collectives become a safe, decentralized, non-authoritative home for emerging forms of expression? Bring them home with you!
FMLY FEST 2k12 is the fourth annual installment of our planet's biggest, wildest, friendliest D.I.T. (do-it-together) music and arts festival. After three "now legendary" (Decoder Magazine), "unmissable" (LA Times) winters in Los Angeles FMLY FEST has taken summer buds to Brooklyn to indulge our East Coast tropical fantasies. From June 21 – 23 we open our front doors and invite you into our bedrooms, basements, rooftops, and backyards to celebrate a shared intimate insanity. For these three days we hope to become involved in a possibility of what life could be like if we nurture creative impulse, collaborative desires, and allow for each and every moment to welcome the festivity of a more shared experience. We are not renting out any fancy social spaces or opening our embraces to shallow waters of non-committal diy-ism, but taking this opportunity to directly engage with our immediate community of Bushwick and introduce our fam throughout the world to our inspiring neighbors. This summer, we welcome you home.
FMLY FEST is the expression of a series of public meeting workshops held regularly from January through June, emphasizing a shift from general meetings to active working groups. Our working groups have initiated projects from developing curriculum for new community spaces to creating an adopt-a-band platform for traveling artists. We maintain our enthusiasm by believing in what we do, and receive no external funding aside from what we collect through various all ages, affordable events. We are a FMLY. Together, we represent a positive change in society.