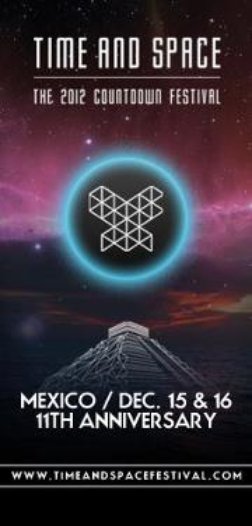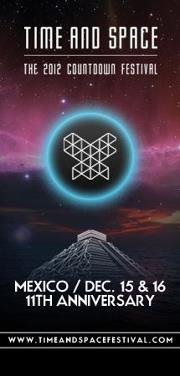 Date
Saturday 15 December 2012 — Sunday 16 December 2012
Description
Time and Space
The 2012 Countdown Festival, México
De acuerdo al calendario Maya, este año es el fin de un ciclo en la historia de la humanidad, un ciclo que ha tenido una duración de 26,000 años. Queremos celebrar el fin de esta etapa en la historia con el festival Time & Space, que se llevara a cabo el 15 y 16 de Diciembre en la Ciudad de México; y el 20, 21 y 22 en Tulum, recibiendo al solsticio de Invierno.
Un par de eventos donde resonaran estilos como el Progressive, Techno, Trance, Deep House, Chill-Out, Dub, House, Disco y Glitch. Contando con la participación de más de 90 artistas nacionales e internacionales, así como del live painting a cargo de los psicodélicos artistas visuales Alex & Allyson Grey.
Time and Space presenta artistas como Shpongle, quien se ha caracterizado por experimentar con elementos sonoros del flamenco, musica hindú u opera en sus producciones que van del ambient al goa trance y breakbeat, descrito por muchos como "Psybient". Ellen Alien, la Dj y productora berlinesa, fundadora del sello BPitch Control y que con su electrónica abstracta y ensoñadora ha pinchado en los mejores clubs y eventos por todo el globo. Younger Brother, el duo culpable del álbum "A Flock Of Bleeps" álbum que para muchos es un clásico de culto entre la electronica underground. El dúo sueco Son Kite regresa a México después de varios años, y con ellos su esperado set en vivo.
Paul Ritch, el prolífico productor de techno y minimal es ya una de las figuras más relevantes en la escena desde su primer EP "Samba".
La Riviera Maya acogerá también música de talentos nacionales, representado en esta ocasión por productores con una trayectoria dentro de la escena mexicana.
Entre los demás proyectos a presentarse, podemos nombrar a Ace Ventura, Minilogue, Dousk, Karotte, Opiuo, Avalon, Blond:ish, Henry Saiz, Marc Marzenit, Guy j, Perfect Stranger, Zentura, Troy Pierce, y muchos talentos más.
Dic 15 - 16, Estado de México
11-Year Anniversary
Dic 20, 21 y 22, Tulum Riviera Maya
Winter Solstice
www.timeandspacefestival.com
www.maia.com.mx
www.dreambeatproductions.com