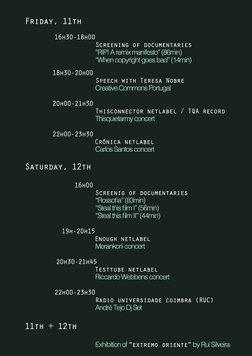 Date
Friday 11 May 2012 — Saturday 12 May 2012
Location
Flausina
Calçada Salvador Correia de Sá, 18, Lisboa, Portugal
Description
Microstrutture is an event dedicated to Internet music and to the culture of free distribution, included in the global iniciatives of Culture Freedom Day 2012. Flausina offers itself as a meeting point for creative artists, audience and anyone interested, in order to promote the visibility of these new tendencies in music and technology.
The event includes different activities, such as concerts of artists involved in net-labels, debates, screening of documentaries on the topic of the copyleft and creative commons, and the exhibition of sonic installations.
Net-labels are a reality which represents today the most significant alternative to the traditional musical production. Net-labels have emerged in Portugal in the past few years and account today for many virtual producers in the most different music genres, witnessing the dynamism of an environment that is constantly innovating. Some of them are more known than others, but they all share the same philosophy: escaping from the mainstream taste and build up a universe alternative to the traditional labels, with the objective of creating a more healthy and productive environment for people that believe in copyleft and independent production.
As for the open source phenomenon, net-labels stand in opposition to the capitalist notion of traditional benefit, thus they can be seen as "microstructures models".
The objective of this event is to recreate a platform where it will be possible to discuss on the possibilities and challenges that net music brings about. At the same time the participants will be able to listen to good music (well produced and distributed) and enjoy performances and sonic installations.. all in the great atmosphere that Flausina always guarantees.