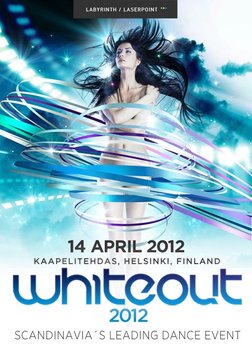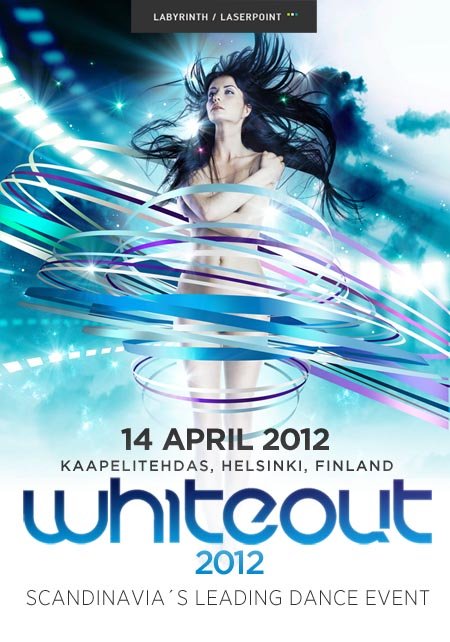 Date
Saturday 14 April 2012 — Saturday 14 April 2012
Description
== Scandinavia's leading dance event ==
== WHITEOUT 2012 ==
== Saturday 14 April 2012 - Kaapelitehdas, Helsinki, Finland ==
===============================
Sister Bliss - FAITHLESS DJ set (UK)
One of the most legendary electronic music acts of all time best known for their smash hits 'Insomnia', 'We come 1' and 'God is a DJ'.
CHICANE (UK)
Often called 'the godfather of the Ibiza anthems'.
CLAUDIA CAZACU (UK)
World's #1 Female DJ!
DARUDE (EnMass Music)
ORKIDEA (Pacifique / Unity)
ALEX KUNNARI (Club Colors)
LOVETONE (Laserpoint)
EFO (Laserpoint)
SERGEI SHKUROFF (Madwave)
PROTEUS presents BLACKOUT:
Proteus (Säde/Hellfire Club)
Muffler (Hospital) vs. Genki (Stealth Unit)
Carbon Based - Live (FINRG)
Nebula Meltdown - Live (Suntrip)
Neon (Säde)
Sasha F (TiLLT Records)
Mindcore DJs: Criss, Skitzofrenik & Zerathep
Djane J7 & Jayvee (Finrg)
Macio (Innowation)
===============================
Venue: Kaapelitehdas / The Cable Factory, Tallberginkatu 1, Helsinki, Finland.
Doors open: 20.00 - 04.00
Age limit: 18 years and over
Capacity: 3000 people
More info: http://www.labyrinth.fi/info.shtml
Tickets out now nationwide!
More info: http://www.labyrinth.fi/tickets.shtml
Money
The bars only accept cash and tokens that can be purchased from the token cashier. The token cashier accepts cash, debit cards and credit cards. Token system makes sure you'll get your drinks and refreshments faster.
The nearest ATM is located at the Ruoholahti metro station 500m away.
Photography & Press
Taking photos with your compact cameras and mobile phones is allowed and encouraged. The use of professional photo, video and other recording-equipment is however prohibited. Please leave all professional cameras and SLR's to the cloack-room. Official event photos will be provided by Sessions2.com
For press enquiries send email: laserpoint@labyrinth.fi