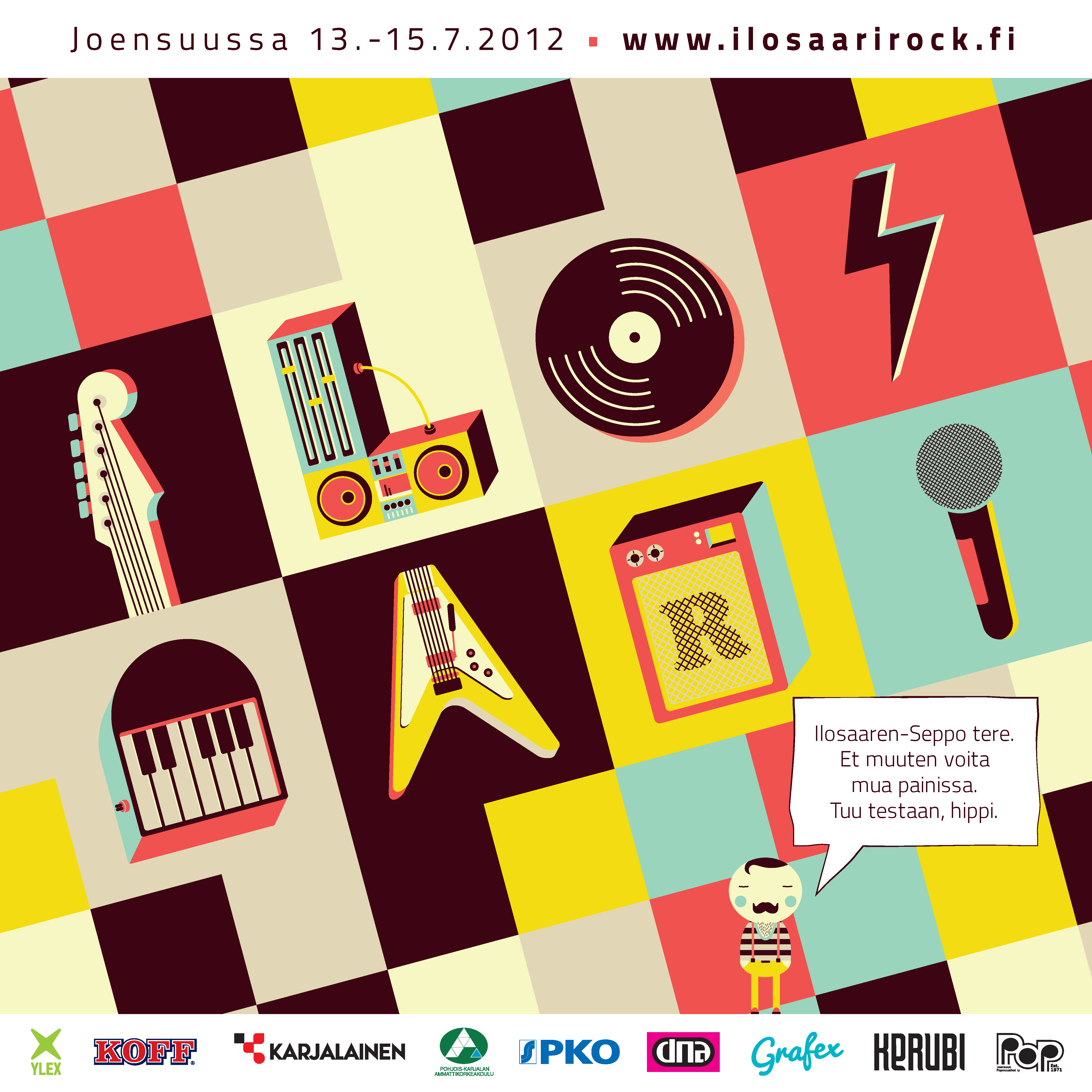 Date
Friday 13 July 2012 — Sunday 15 July 2012
Location
Laulurinne
Linnunlahdentie, Joensuu, 80110, Finland
Description
Lauantai: The Hives, D-A-D, Apocalyptica, PMMP, Paleface, The xx, Rival Sons, Iiris, Reckless Love, Lapko, Insomnium, Nasum, Mayhem, Pulled Apart By Horses, Oranssi Pazuzu, Elokuu, Richie Spice, Kuningassoundi Rentoshow, Jare & VilleGalle, Stig, Nerve End, French Films, Relentless, Kairon; IRSE!
Sunnuntai: Chisu, Black Star, Children Of Bodom, Herra Ylppö & Ihmiset, Pariisin Kevät, Antony And The Johnsons & Joensuu City Orchestra, Modeselektor, First Aid Kit, Regina, Amorphis, Against Me!, Swallow The Sun, 65daysofstatic, Enochian Crescent, Riistetyt, Tanya Stephens, Goran Bregović & His Wedding and Funeral Orchestra, GG Caravan, The Three Smiths Show: Gracias, Noah Kin & Ekow, The Irrationals, Liimanarina, Eva & Manu, Hebosagil, LAS, Tundramatiks
Sulo-klubi perjantaina 13.7. YleX-lavalla:
Michael Monroe, Viikate, Stam1na, Kauko Röyhkä & Narttu, Haloo Helsinki!
Töminä-klubi perjantaina 13.7. Rekkalavalla:
Fun, Jukka Kiesi, Murheenlaakso, Räjäyttäjät, The Splits, Terveet Kädet, The Valkyrians, Vapaa Maa