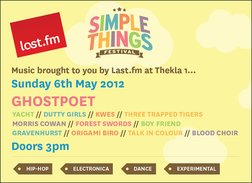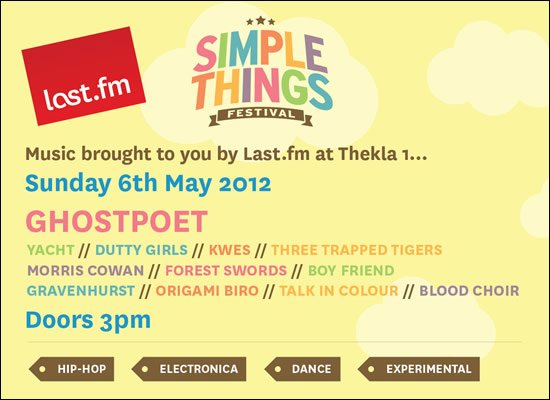 Date
Sunday 6 May 2012 — Sunday 6 May 2012
Description
-----------------------
What?
A one day music and visual festival situated in the heart of Bristol. Spread across a cross section of existing city centre venues and brand new interesting and intriguing creative spaces.
Now into our second year, Simple Things is an aural celebration of everything that is adventurous, striking, innovative and fun!
In 2012 we move onwards, ever upwards...curating a eclectic, expansive forward-thinking lineup, we think will excite and inspire!
Who?
Squarepusher LIVE, Caribou DJ Set, Death in Vegas LIVE, Hudson Mohawke LIVE AV Show, Ghostpoet, Planningtorock, Nathan Fake, Factory Floor, Forest Swords, Yacht, Three Trapped Tigers, Kwes, Marcellus Pittman, Grimes, Rustie, Jackmaster, Deadboy, Redinho, Spencer, Lunice, Male Bonding, Boy Friend, Man Like Me, Space Dimension Controller, Stealing Sheep, Lone, Cloud Boat, Errors, Bo Ningen, D/R/U/G/S, Behling & Simpson, Throwing Snow, Tropics, Gross Magic, Tall Ships, Gaggle, Vondelpark, Cheeba AV Set, Face+Heel, Gravenhurst, Wet Nuns, Eagulls, Debukas, Morris Cowan, Origami Biro, The Night, Idles, The Kelly Twins, Tom D, Pardon my French DJ's, Echo Lake, Still Corners, Public Service Broadcasting, Hooded Fang, Shapes DJs, Arsequake, Dubious, Dutty Girl DJ MC Set, Team Me, Half Naked DJs, I.R.O.K, Becoming Real, Cheveu...........plus dozens more.....
including showcases from:
Numbers feat:
Rustie, Jackmaster, Deadboy, Redinho, Spencer
and Crazylegs feat:
Marcellus Pittman, Space Dimension Controller, Behling & Simpson, The Kelly Twins, Tom D
When?
Bank Holiday Sunday the 6th of May 2012
Where?
Various venues and creative spaces around the city of Bristol.
How?
Early bird tickets are on sale now for £30+ booking fee from:
http://tickets.crackmagazine.net
http://www.bristolticketshop.co.uk
http://www.seetickets.com
and in person from:
Bristol Ticket Shop, Broadmead, Bristol
Idle Hands, Stokes Croft, Bristol
Rise Records, Queens Rd, Bristol
Cooshti, Park St, Bristol
Social?
Like us on Facebook - http://www.facebook.com/simplethingsuk
Follow us on Twitter @simplethingsuk