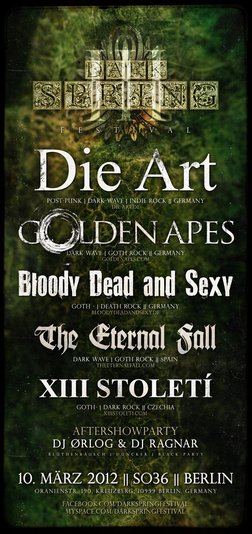 Date
Saturday 10 March 2012 — Saturday 10 March 2012
Location
SO36
Oranienstr. 190, Berlin, 10999, Germany
Tel: + 49 030 614 013 06
Web: http://www.so36.de
Description
Am zweiten Märzwochenende findet nun schon zum dritten mal das Dark Spring Festival im legendären Berliner SO36 statt. Wie auch in den Jahren zuvor hält man weiter an dem Independent Gedanken fest, nur Bands einzuladen die fernab von Mainstream und zweifelhaften Mode Erscheinungen mit ihrer Musik und der damit verbundenen Bühnenpräsens überzeugen können.
Die gelungene Mischung aus 80tis-Wave,Post Punk, Gothrock und Deathrock wurde bereits von Bands wie: Merciful Nuns, Escape with Romeo, Nosferatu, Whispers in the Shadow, Pretentious Moi?, Midas Fall und Vendemmian präsentiert.
In diesem Jahr dürfen wir uns auf folgende Bands freuen:
DIE ART (GER)
GOLDEN APES (GER)
BLOODY DEAD & SEXY (GER)
THE ETERNAL FALL (E)
XIII. STOLETI (CZ)
Und wer sich dann noch nicht genügend bei den Live-Darbietungen verausgabt hat kann das dann im Anschuss bei der Aftershowparty mit den Berliner Szene DJ´s ORLOG & RAGNAR (bekannt von Blütenrausch-Party, Montags-Duncker, Königin der Nacht, Dark Friday, Black-Party…usw.) ausgiebig nachholen.
Einlass: 18:00 Uhr
Beginn: 19:00 Uhr
Ticketpreise: VVK 20.-€ (+ Gebühr)
AK 23.-€
nur Aftershowparty : 5. -€
Tickets gibt es Online über:
www.apes.1a-shops.eu
www.koka36.de
Infos zum Festival unter:
www.facebook.com/darkspringfestival
www.myspace.com/darkspringfestival
www.so36.de
Golden ApesGolden Apes