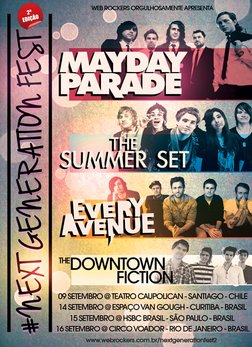 Date
Friday 14 September 2012 — Friday 14 September 2012
Location
John Bull Music Hall
Rua Engenheiro Rebouças, 1645, Curitiba, 80230-040, Brazil
Description
Em setembro de 2012 vai rolar a segunda edição do festival #NEXTGENERATIONFEST, evento que traz ao Brasil bandas novas que estão despontando na cena rock e pop mundial.
Para essa segunda edição, as bandas confirmadas são:
MAYDAY PARADE / THE SUMMER SET
EVERY AVENUE / THE DOWNTOWN FICTION
Dia: 14/09/2012 (sexta-feira) - 16 hrs
Local: Espaço Trésor (ex-Moinho Eventos) - R. Des. Westphalen, 4000
Ingressos à venda a partir de 18 de maio!
R$ 180,00 - Pista VIP (inteira)
R$ 90,00 - Pista VIP (estudantes)
R$ 100,00 – Pista (inteira)
R$ 50,00 – Pista (estudantes)
Pontos de venda de ingressos:
Em breve!
Vendas oficial de ingressos online: Em breve!
Classificação: 16 anos