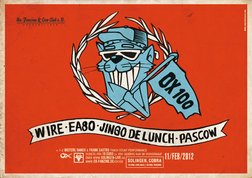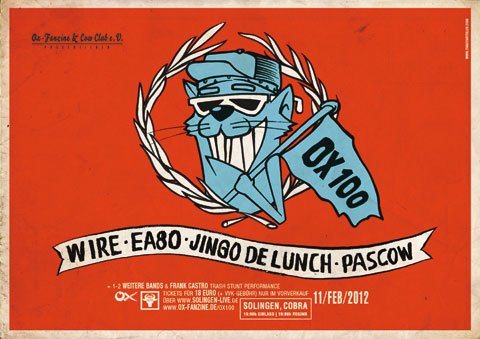 Date
Saturday 11 February 2012 — Saturday 11 February 2012
Description
Ox-Fanzine & Cow Club e.V. präsentieren:
Ox 100
Das Festival zur 100. Ausgabe des Ox-Fanzine
Nach 23 Jahren haben wir es geschafft: Anfang Februar 2012 erscheint die 100. Ausgabe des Ox-Fanzine. Und das muss gefeiert werden, weshalb wir uns für den 11.02.2012 ein paar Lieblingsbands eingeladen haben.
WIRE
(London: 1976 gegründet, bis heute aktiv, exklusiver Auftritt bei Ox 100!)
EA80
(Mönchengladbach: seit 1979 dabei, eben erschien ihr 12. Album)
JINGO DE LUNCH
(Berlin: 1987-1996, 2006-heute: Hardcore für die Achtziger und für heute)
PASCOW
(Gimbweiler: bester deutscher Punkrock seit 1998)
SNIFFING GLUE
(Wegberg/Düsseldorf: Old School Hardcore seit 2006)
+ Trash Stunt Performance mit Frank Castro alias Papst Pest (Aachen)
+ After-Show-Party (Cobra-Kantine) mit DJ Frank Castro und DJ Jay Triplechair
Samstag, 11.02.2012 Solingen, Cobra
18:00 Uhr Einlass, 19:00 Uhr Beginn (pünktlich!)
Tickets für 18 Euro (+ VVK-Gebühr) nur im Vorverkauf über www.solingen-live.de
Direktlink: www.solingen-live.de/?100322
(2008 war unser Festival lange im Voraus ausverkauft; wir gehen deshalb davon aus, dass es keine Abendkasse geben wird und empfehlen dringend, sich frühzeitig im Vorverkauf Tickets zu besorgen.)
Weitere Infos unter www.ox-fanzine.de/ox100
Log in to Last.fm or sign up to leave a shout.
Hey, will jemand zwei Karten loswerden? Wenn ja, bitte eine PM an mich. ;)

Actions