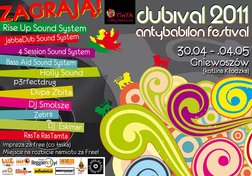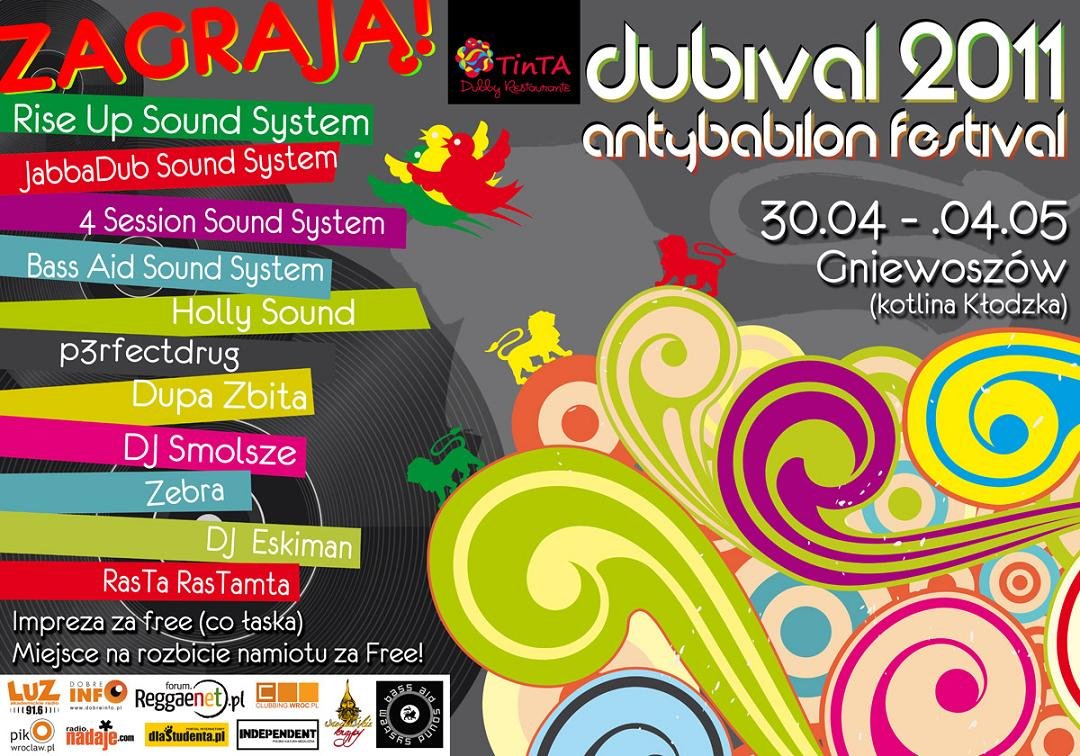 Date
Saturday 30 April 2011 — Wednesday 4 May 2011
Location
MIĘDZYLESIE
MIĘDZYLESIE GNIEWOSZÓW 11, Poland
Description
Witamy i zapraszamy na DUBIVAL 2011 to już kolejna edycja plenerowej imprezy z przesłaniem grubych Bassowych wibracji, odbędzie się w malowniczym miejscu miejscowości Gniewoszów obok Międzylesia i Czeskiej granicy.
Zagrają dla WAS:
- Rise Up Sound System,
...http://riseup.nuffrespekt.pl/
- JabbaDub Sound System,
http://www.myspace.com/jabbadubsoundsystem
- 4 Session Sound System,
- Bass Aid Sound System,
http://www.facebook.com/pages/Bass-Aid-Sound-System/161898280508363
- Holly Sound,
http://www.myspace.com/hollysound
- p3rfectdrug,
http://soundcloud.com/p3rfectdrug
- Dupa Zbita,
http://www.myspace.com/dupazbita
- DJ Smolsze,
http://soundcloud.com/smolsze
- Zebra,
http://www.myspace.com/zebradubpunk
- Dj Eskiman,
- Dj FreeTree (może :),
- Dub Punk Sound System,
Impreza za free (co łaska)
Miejsce na rozbicie namiotu za Free!
*Jeśli masz pomysł jak mógłbyś pomóc np. zapraszając znajomych, wrzucając info na różne portale, grając przed Dubivalową publicznością - nie lękaj się!!!
Na miejscu będzie można wziąć zimny a może czasem i ciepły prysznic!
Postaramy się również o zaopatrzenie Was w różne niezbędne do życia przedmioty a może nawet coś ugotujemy dla mas!!!
Imprezę w całości postaramy się sfinansować ze sprzedaży piwa tudzież mocniejszych trunków!!! i tak np, czeskie piwo lane - Skalak 4 zł. żołądkowa gorzka/czysta/miętowa po 3 zł !!!
Różne atrakcje w planie między innymi zawody gry w bilard, piłkarzyki, ping-ponga (jeśli ma ktoś stół) generalnie Sport!!!, Kino- jeśli chcielibyście koniecznie coś zobaczyć weźcie to ze sobą!!!... oraz wiele innych.
ZAPRASZAMY!!!
Mapka:
http://img705.imageshack.us/img705/5715/gniewoszw.jpg
WIĘCEJ INFO NA http://www.facebook.com/#!/event.php?eid=195490927158988