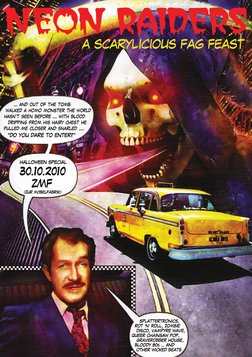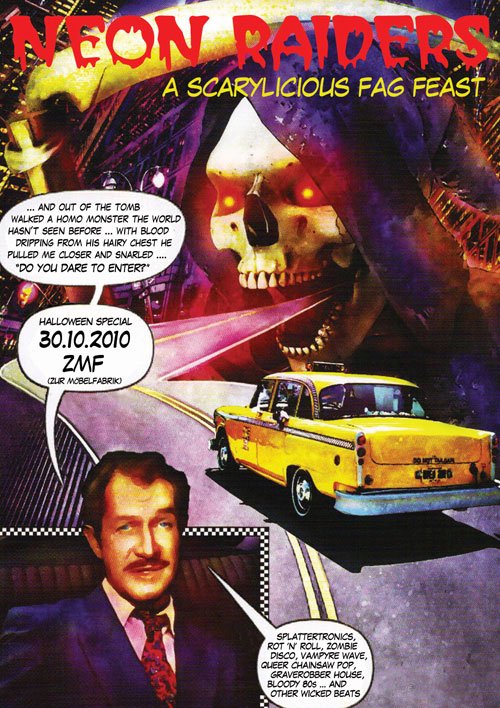 Date
Saturday 30 October 2010 — Saturday 30 October 2010
Location
Zur Möbelfabrik, Brunnenstr. 10
Berlin, Germany
Description
LADIES AND GENTLEMEN, THE FREAKSHOW CONTINUES!!!
Wir öffnen erneut unsere Katakomben, der Zombie unter den Berliner Partys wird standesgetreu zu Halloween wieder auferstehen. Das allerdings vorerst nur für eine Nacht. Merke für die Zukunft: Hat der Monat 5 Samstage, werden wir am Letzten feiern!
Doch vorerst spooky sounds for groovy ghoulies inklusive Live Act (TBA), Horror Movies und dem oder anderen blutigen Special … Live Act inclusice
DICKEY DOO - Produzent, Artist, DJ, SUPERSTAR! Das zweite Album des gebürtigen Kanadiers ist in Arbeit und kollaboriert hat er unter anderem mit Namen wie Miss Guy (Toilet Boys), Lady Bunny und Larry T. Außerdem sieht schweinegeil aus und steht auf Punkrock, Hi-NRG, Wave und Disco. This is gonna be F-U-N!!!
TOMMY CORROSIVE - Der Keyboarder der Dukes Of Windsors mausert sich nach seinem letzten Set zu unserem zweiten Resident. Wunder, der Mann versteht es einen wahrlich perfekten Neon Cocktail zu mixXxen. Indie! Nu Pop!! Discorock!!! Tanzbar, sexy und oh so 80's.
SHEILA CHIPPERFIELD - "Hereinspaziert, hereinspaziert" wäre eine wohl passende Ankündigung von "Chips". Ganz der Familientradition folgend (just google "Chipperfield's Circus") scheint die Unterhaltung Ihrer Mitmenschen Ihre Bestimmung zu sein, und das tut Sie hinter den Plattentellern genau so überzeugend wie in Ihrer Vergangenheit in und mit Bands wie Elastica oder The Fall. Very british that GRRRL … and VERY rock'n roll.
Halloween - die eine Nacht im Jahr in der so ziemlich alles passieren kann und wird. Wir bitten um, ach was sage ich da, ERWARTEN dem Anlass entsprechende Be- und/oder Entkleidung … und entlohnen mit reduziertem Eintritt.
Stay tuned for more of the wicked...
XX
SPLATTERTRONICS *** ROT 'N' ROLL *** ZOMBIE DISCO *** VAMPYRE WAVE *** QUEER CHAINSAW POP *** GRAVEROBBER HOUSE *** BLOODY 80s ... AND OTHER WICKED BEATS