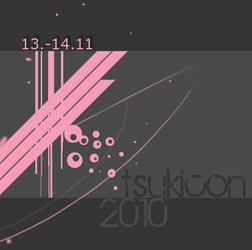 Date
Saturday 13 November 2010 — Sunday 14 November 2010
Location
Gloria
Pieni Roobertinkatu 12, Helsinki, 00120, Finland
Tel: +358-(0)9-310 45812
Description
Kaikki Tsukicon 2010 vieraat julkistetaan mahdollisimman pian!
Tsukicon on JrockSuomi RY:n järjestämä kaksipäiväinen con-tapahtuma, joka keskittyy japanilaiseen musiikkiin ja katumuotiin. Tsukicon järjestetään nyt neljättä kertaa ja kahtena edellisenä vuonna conissa on vieraillut vuosittain yli 4000 kävijää.
Tsukicon 2010 palaa tänä vuonna juurillensa ja se järjestetään Kulttuuriareena Glorialla ja Gloriahallissa, Helsingissä 13.-14. marraskuuta.
Tapahtumaan kuuluu mm. iltakonsertit molempina päivinä, muotinäytöksiä, puheohjelmia ja paneeleja, kilpailuja ja muuta mukavaa. Nähdään Suomen ja Pohjois-Euroopan suurimmassa muoti- ja musiikkiconissa!
Log in to Last.fm or sign up to leave a shout.
Actions

Actions

Actions