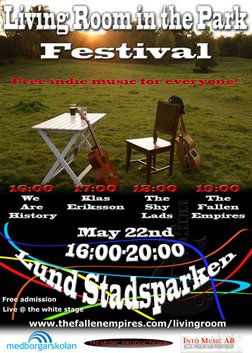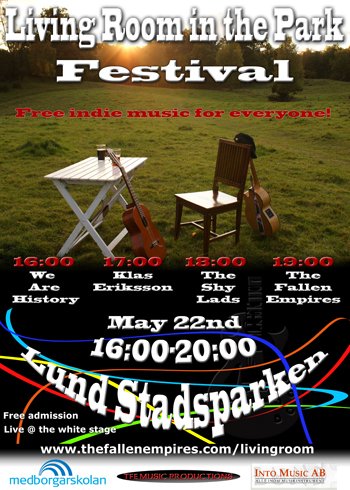 Date
Saturday 22 May 2010 — Saturday 22 May 2010
Location
Stadsparken
Lund, Sweden
Description
Taking place on May 22nd, 2010 during the Lundakarneval festivities "Living Room in the Park" is a free open-air event featuring local independent indie-rock bands and singer-songwriters, entertaining their fans and those that yet have to become followers.
The concerts will be held between 16:00 and 20:30 at the white stage in Lund Stadsparken. Free of charge, political or social boundaries the festival aims at enriching Lund's cultural life and connecting people through live music.
So whether you have happened to catch the first day of the Lundakarneval parade (Karnevalståget) and don't want to end the festivities quite yet, or you simply fancy a relaxed atmosphere in the green - take some friends down to Stadsparken and help us make it into a living room! We bring the music, you bring the vibes...
More info:
Living Room in the Park - official website