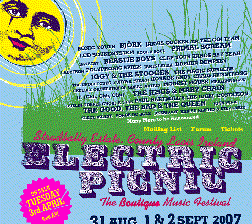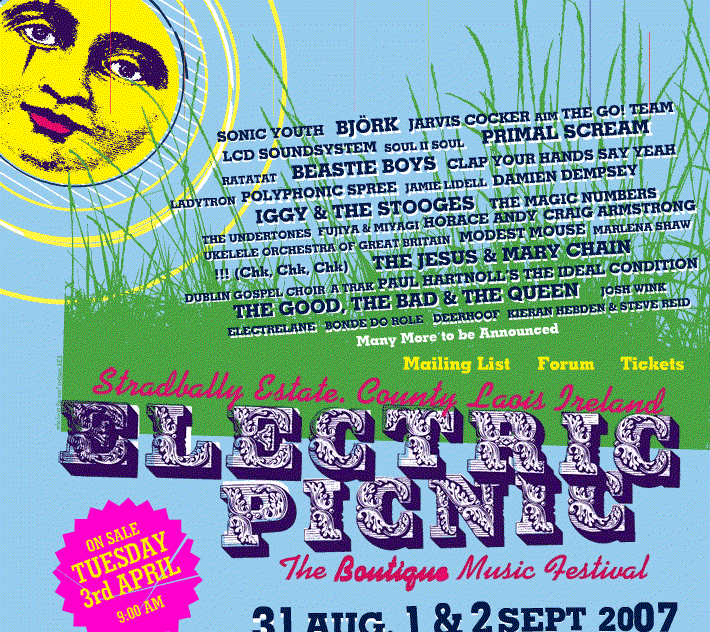 Date
Friday 31 August 2007 — Sunday 2 September 2007
Location
Stradbally Estate
Stradbally, Co Laois, Ireland
Description
The Beastie Boys
Iggy Pop And The Stooges
Modest Mouse
Bjork
Jarvis Cocker
The Jesus And Mary Chain
LCD Soundsystem
Primal Scream
The Good, The Bad and The Queen
Polyphonic Spree
Craig Armstrong
Soul II Soul
The Ideal Condition
Dublin Gospel Choir
Sonic Youth
Aim
The Go! Team
Ratatat
Clap Your Hands Say Yeah
Ladytron
Jamie Lidell
Damien Dempsey
Mr Scruff
The Magic Numbers
The Undertones
Fujiya & Miyagi
Horace Andy
Ukelele Orchestra of Great Britain
Marlena Shaw
!!! (Chk, Chk, Chk)
A Trak
Josh Wink
Electrelane
Bonde do Role
Deerfhoof
Kieran Hebden & Steve Reid*
Derek May
Hextatic
Derick Carter
The Glimmers
The Elecktrons
DJ Marky
The Jimmy Cake
Brontosaurus Chorus
...more to be announced...
plus
Comedy Club
the Southern Comfort Crawdaddy Tent
the Bacardi B Bar
burlesque house of Lost Vagueness
the Body And Soul Village
Chapel Of Love
The Laundrettas Laundromat Of Love
the Leviathan
the Hot Press Chat Room
casino
Village green and hall
Fosset's circus
late night stage
Bodytonic Tent line-up announced:
Derrick May
Hexstatic
Josh Wink
Derrick Carter
Mr Scruff
The Glimmers
The Elecktrons LIVE
DJ Marky
Greenskeepers LIVE
Dixon
Ame
Joakim & The Ectoplasmics Live
Larry Heard
Jamie Liddell
Bonde Do Role
A-trak
Simian Mobile Disco Live
Annie Mac (Radio 1)
The Bodytonic Sound System
Backlash
Stereotonic
Scribble and Global