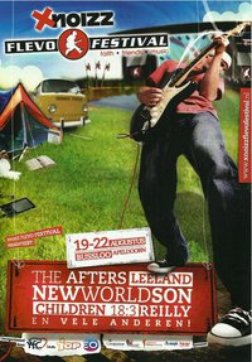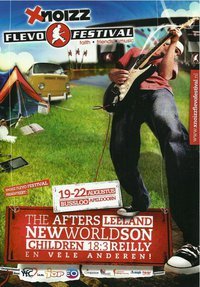 Date
Thursday 19 August 2010 — Sunday 22 August 2010
Location
Bussloo
Apeldoorn, Netherlands
Description
The Xnoizz Flevo Festival is organized yearly by Youth for Christ in cooperation with the Protestant Church in the Netherlands (JOP) and the Evangelical broadcasting company (EO). At this moment, preparations for the 33rd annual event are proceeding as planned.
The Xnoizz Flevo Festival is a four (4) day, Christian event with a total of about 10,000 in attendance. The majority of people who come are between 15 and 25 years of age. Most of the people camp for the 4-day event. A broad selection of music, workshops, theater, cabaret, lectures, etc. is offered. More than 200 programs and 90 concerts from five different platforms are offered. About 13,000 people attend the closing open-air service on Sunday morning. The Xnoizz Flevo Festival will be held from the 19th through the 22nd of August 2010 in Bussloo near Apeldoorn in the Netherlands.

Each year a special theme is chosen for a common thread that runs through the entire program of the festival. This year our theme is "Are You in Tune?" The vision and mission of the festival is as follows: The Xnoizz Flevo festival, in as much as possible, is meant to help the youth in the Netherlands give form to, develop and strengthen their character and become relevant for their society. The Xnoizz festival offers through music, programs and meetings a safe place in which the youth can develop themselves in an unrestrained environment, not by giving them a particular standpoint, but exposing them to various opinions and differing standpoints.

Xnoizz Flevo Festival is…
simply relaxing in the grass or enthusiastically enjoying a concert in front of the main stage or…eating with friends at a pleasant food stand or…a quiet moment in the village church or…laughing oneself silly at a cabaret performance or… getting involved in a discussion with a politician or speaker.
For those who would rather be active, there are workshops in break dancing, djembé and graffiti. For those who are more into sports there is the possibility to take a dive in the lake in Bussloo. One may enjoy the program in all areas of the festival grounds. All parts of the program are distributed among different tents and platforms. Everyone is able to enthusiastically enjoy their time at the Xnoizz Flevo Festival. It is an indescribable experience for all. You must experience it for yourself! Check out this website for more actual information about bands that have been booked, speakers and ticket sales.
Source: Festival website