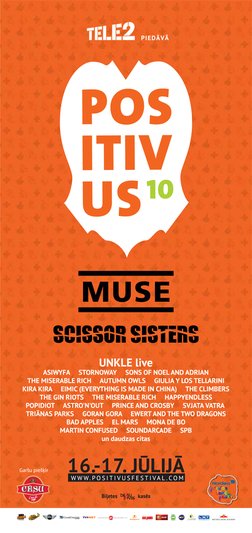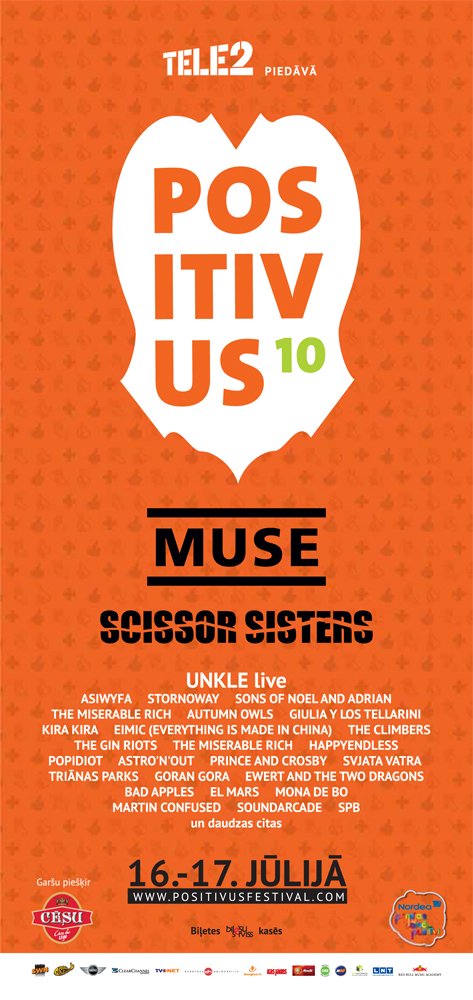 Date
Friday 16 July 2010 — Saturday 17 July 2010
Location
Zvejnieku parks
Sporta iela 6, Salacgrīva, LV-4033, Latvia
Description
Muse, UNKLE un Scissor Sisters šovasar būs galvenie mākslinieki Positivus festivālā. Positivus festivāls ir lielākais mūzikas un mākslas festivāls Baltijā, kas šogad jau ceturto gadu notiks Salacgrīvā.
Šogad festivālā būs vēl vairāk ārzemju mākslinieku nekā iepriekš, īpašu uzsvaru liekot uz jaunajām grupām. Tuvākajā laikā Positivus festivāla programmu papildinās vēl citi mākslinieki.....
Britu grupa Muse ir viena no patlaban aktuālākajām un labākajām koncertgrupām pasaulē, kas 2007.gadā sniedza vienu no labākajiem koncertiem, kāds jebkad noticis Rīgā.
Scissor Sisters – tie ir krāsaini un uzkrītoši spoži tērpi, milzīgs seksapīls gan mūzikā, gan vizuālajā izpildījumā, disko, glamroks, fanks, pops. Viss, ko varat sastapt Ņujorkā, turklāt pārliets ar treknu pozitīvisma mērci! Grupa, kas populāra dzimtajā ASV, un guvusi apskaužamus komerciālos panākumus Eiropā, šogad atkal sola sacelt vētru ar jūnija beigās gaidāmo jauno albumu Nightwork, un koncertiem gan Eiropā, gan Amerikā. Jaunā albuma pirmā singla Fire With Fire pirmatskaņojums radio gaidāms jau 7.maijā.
Vieni no interesantākajiem Positivus festivāla viesmāksliniekiem būs spāņu muzikālais projekts Giulia y Los Tellarini, kas sevī apvieno plašu pasaules mūzikas ainavu - Vidusjūras siltumu un šarmu, latino karstasinību, meksikāņu traģiskumu un džeza eleganci. Kino mīļotāji šo grupu atpazīs pēc Woody Allen filmas Vicky Cristina Barcelona.
Pārsteigumus sola neprognozējamā islandiešu māksliniece Kira Kira, kas ne tikai sacer dziesmas savos projektos, bet arī komponē mūziku teātra izrādēm, dejām un filmām, kā arī veidojusi video un mūzikas instalācijas visā pasaulē.
Positivus festivālā uzstāsies vairākas Baltijas grupas – Lietuvu pārstāvēs Happyendless, kas 2008.gadā ieguva MTV EMA balvu kā Baltijas labākā grupa, savukārt Igauniju – Svjata Vatra un Popidiot, kas šopavasar ieguva četras Igaunijas mūzikas ierakstu gada balvas, tai skaitā kā Gada mākslinieki.
Latviju uz festivāla galvenajām skatuvēm šovasar pārstāvēs četri mākslinieki: Goran Gora, Astro'n'out, Triānas parks, kā arī Prince and Crosby. Plašākā klāstā vietējie mākslinieki uzstāsies uz I Love You skatuves. Kā vienu no galvenajiem viesmāksliniekiem uz šīs skatuves redzēsim Latvijā jau pamanīto un iecienīto igauņu grupu Ewan And The Two Dragons.
Positivus festivāls 16. un 17. jūlijā jau ceturto reizi notiks Salacgrīvā, un tas ir lielākais mūzikas un mākslas festivāls Baltijā. Biļetes nopērkamas "Biļešu Serviss" kasēs un internetā www.bilesuserviss.lv. No šodienas, 28.aprīļa, pirmās 4000 divu dienu biļetes maksās Ls 29,00; ar vietu telšu pilsētiņā – Ls 32,50. Pēc tam divu dienu biļete maksās Ls 33,00. Pieejama arī grupas biļete – pērkot sešas divu dienu biļetes, katra izmaksās Ls 24,50; ar vietu telšu pilsētiņā – Ls 28,00. Bērniem līdz 10 gadu vecumam ieeja festivālā kopā ar pieaugušo, kam ir derīga festivāla biļete, bez maksas.
Muse, UNKLE and Scissor Sisters will headline Positivus Festival held on July 16-17, 2010, in Salacgriva, Latvia.
The line-up for the fourth edition of the festival this year will also include Stornoway, ASIWYFA (And So I Watch You From Afar), The Climbers, Kira Kira and more. For full line-up confirmed up to now please see the list below.
The largest festival in the emerging Baltic countries, music and art festival Positivus, bestows a delicious mix of musical genres and an inimitable atmosphere upon 30'000 that pass through its gates every year. By focusing on the details and inviting more foreign bands, especially promising new acts from all around the world, Positivus festival has been able to keep its unique charm and the special atmosphere for everyone to enjoy the music and art.
Positivus Festival is a budding attraction to locals and Europeans alike. Festival site in Salacgriva, Northern Latvia, is accessible from all Europe via Riga International Airport, only 120 km away. The breathtaking scenery of the festival's location, set in the woods next to the beach of a beautiful coastal town together with a friendly and open crowd makes it a different experience even for experienced festival-goers. Positivus Festival 2009 was voted into the finals of UK Festival Awards as the Best Overseas Festival.
Previous headliners and artists of Positivus Festival include Manic Street Preachers, Stereophonics, Moby, Fatboy Slim, Travis, James, Malcom McLaren, Peter Doherty, British Sea Power, Sinead O'Connor, Badly Drawn Boy, The Tiger Lillies, The Whip, The Leisure Society, Sons of Noel and Adrian, Ebony Bones, Two Door Cinema Club and many more.
With diverse program on two main festival stages, Red Bull Music Academy dance tent, I Love You stage for local and international independent acts, cinema, theatre and literature stages, Body and Soul area, Beach zone and various other activities, the price of Positivus Festival tickets is only 45 euro for the weekend including camping.