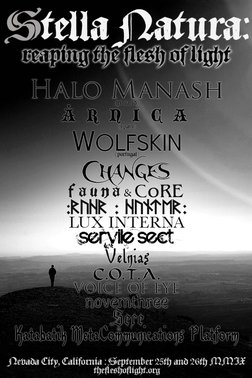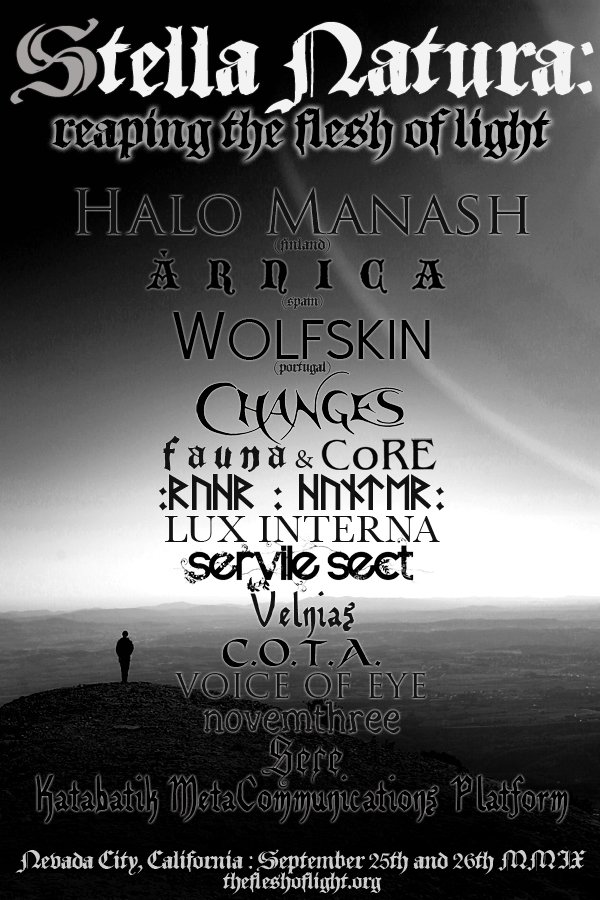 Date
Friday 25 September 2009 — Saturday 26 September 2009
Location
Nevada County Fairgrounds
11228 McCourtney Rd, Grass Valley, 95949, United States
Tel: 530-273-6217
Web: http://nevadacountyfair.com/
Description
"This Autumn, for two days just beyond the wane of Mabon, the Sierra Nevada mountains of Northern California will be graced by a Gathering of Souls, a channeling of primordial fire into performance and art in honor of the All. This festival will draw together some of the most important voices in the international dark arts world, from over the seas and beyond the mountains. Our gathering will transcend musicality in a reaching for the Beyond, and will prioritize those of us working with Spirit in any of its manifestations. Expect nothing less than a gathering of seekers, those others who you've sensed are out there, shadowed, working towards the transmutation of life itself. "
The actual location of this gathering shall remain undisclosed except to confirmed ticket holders.
Stella Natura will take place in the woods near Nevada City, Calif.
CoRE (Constructs of Ritual Evolution) shall perform with Fauna.
As of the Summer Solstice tickets are available.