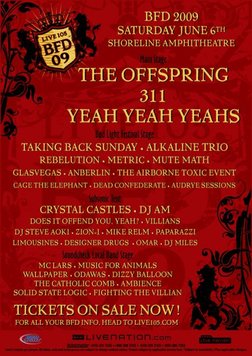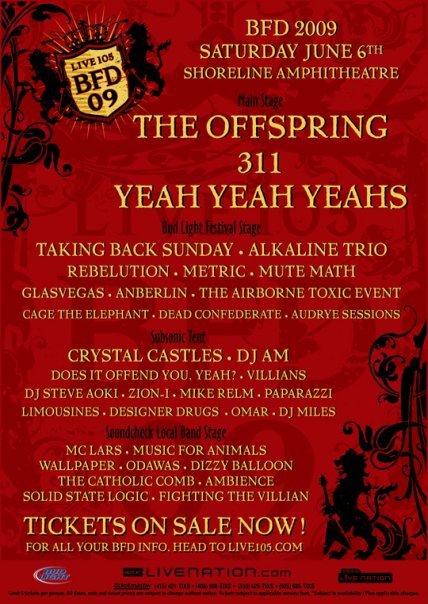 Date
Saturday 6 June 2009 — Saturday 6 June 2009
Location
Shoreline Ampitheatre
1 Amphitheatre Parkway, Mountain View, 94043, United States
Tel: (650) 967-4040
Description
Live 105's annual summer festival goes down this year on Saturday 6th of June. There will be 4 different music sections, 35 bands and a whole lot of fun had. The dance (subsonic) tent is set to come back. As well as the local band stage showcasing the best up and coming bands of the Bay Area.
Local Stage:
Solid State Logic
Fighting The Villain
Catholic Comb 1:20pm
Odawas 2:40pm
Wallpaper 3:20pm
Music For Animals 4:45pm
Dizzy Balloon 4:00pm
MC Lars 5:35pm
Subsonic Tent:
The Limousines 1:40pm
Designer Drugs
Zion-I 4:15pm
DJ AM 8:00pm
Steve Aoki 3:15pm
Mike Relm 5:05pm
Crystal Castles 9:45pm
& more!
Side Stages:
Taking Back Sunday 5:25pm
Alkaline Trio 4:45pm
Metric 3:35pm
Mute Math 3:00pm
Anberlin 12:45pm
Glasvegas
Rebelution 4:10
The Airborne Toxic Event1:50pm
Cage The Elephant 1:15pm
Audrye Sessions 12:15pm
Main Stage:
Dead Confederate 6:10pm
Yeah Yeah Yeahs 7:10
311 8:20pm
The Offspring 9:45pm
Pre-Sale: 4/23 at 10am, info at http://www.live105.com/pages/4209721.php
Public On-Sale: 4/26 at Ticketmaster at 10am
Box Office: 650-967-4040
http://www.livenation.com/venue/shoreline-amphitheatre-at-mountain-view-tickets