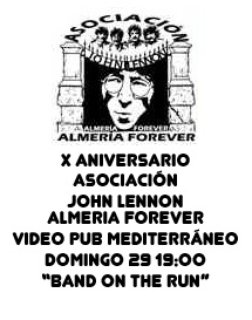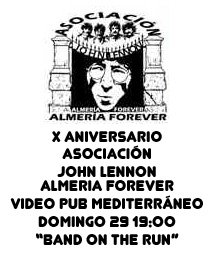 Date
Sunday 29 March 2009 at 7:00pm
Location
Vídeo Pub Mediterrándeo
Almería, Spain
Description
http://www.myspace.com/beatlesbandontherun
Podremos disfrutar de la actuación de uno de los mejores grupos de versiones de Paul McCartney en Almería: Band On The Run. Liderado por 'Chipo' Martínez, Presidente de John Lennon Almería Forever, este grupo de reciente creación ha sorprendido por sus cuidadas versiones de los grandes clásicos de McCartney (en solitario como con The Beatles). Su calidad no extraña ya que cuenta con experimentados músicos almerienses.
El evento contará con una exclusiva para los asistentes: el preestreno del premontaje del documental sobre la figura de Juan Carrión, 'Profesor Pepper'.
El murciano Carrión (tuvimos el honor de recibirlo en nuestra tierra hace dos años), profesor de inglés, fue uno de los privilegiados que se pudo entrevistar con Lennon en Almería. Su intención era conseguir las letras de sus canciones para poder enseñar a sus alumnos con ellas. Todo un personaje y una historia digna de ser contada al mundo porque cambió, en cierto modo, la Historia de la música.