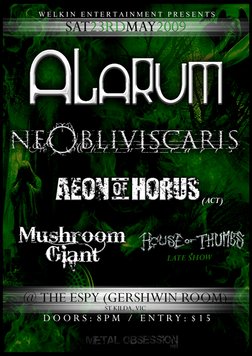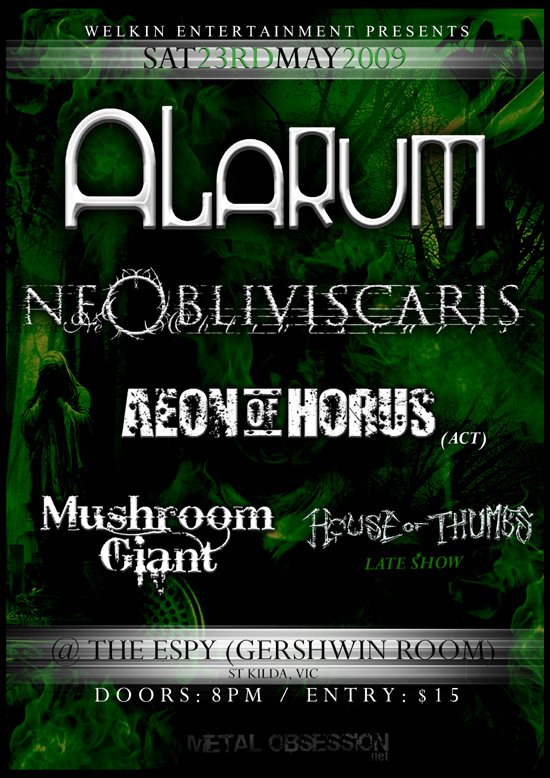 Date
Saturday 23 May 2009 at 8:00pm
Location
The Esplanade Hotel
11 The Esplanade, St Kilda, Victoria, 3182, Australia
Tel: (03) 9534 0211
Description
Welkin Entertainment Presents
ALARUM
NE OBLIVISCARIS

Friday, May 22@ The Barwon Club, GEELONG, VIC
With guests: A FALLEN THEORY & VEIL OF ANGUISH
Doors: 8pm
Entry: $15
Saturday, May 23@The Esplanade Hotel (Gershwin Room), ST.KILDA, VIC
With guests: AEON OF HORUS (ACT), MUSHROOM GIANT & HOUSE OF THUMBS
Doors: 8pm
Entry: $15
Highly respected worldwide; one of our leading metal exports; and currently working on their new album 'Natural Causes' set for release in 2009, ALARUM are back, and better than ever. Rob Brens, Mark Evans and Mark Palfreyman have spent much of the past two years away from the live scene, writing material for their 3rd album, and searching for a new second guitarist to use for their live shows. Having recently played at ProgPower Europe in October 2008 with Cynic and Zero Hour and supported Death Angel & Armored Saint in Melbourne in March, Australia's masters of tech/death/jazz/fusion are finally doing a couple of huge headline shows here in Victoria! Catch them in Geelong on May 22 at the Barwon Club, and at the Espy in Melbourne on May 23!

With widespread critical acclaim of their live performances and their demo 'The Aurora Veil', and with large crowds following them wherever they go, this marks NE OBLIVISCARIS' final shows of their Australian tour running from March 27-May 23, and taking in Melbourne (AA & 18+ shows), Brisbane, Gold Coast, Adelaide, Hobart (AA & 18+ shows), Canberra, Sydney & Geelong. This will be one of, if not the last opportunity to see the band perform live before they head into the studio to record their highly anticipated debut album so don't miss out!
Joining them in Geelong will be local deathcore titans A FALLEN THEORY and symphonic black metallers VEIL OF ANGUISH.
Fresh from the release of their amazing debut album and a supporting slot with Satyricon here in Melbourne in March, AEON OF HORUS (ACT), will also be joining them in Melbourne along with amazing instrumental prog rockers, MUSHROOM GIANT, and the fantastic HOUSE OF THUMBS playing the late show.
http://www.myspace.com/welkinentertainment
http://www.myspace.com/alarummusic
http://www.myspace.com/neobliviscaris
http://www.myspace.com/aeonofhorus
http://www.myspace.com/mushroomgiant
http://www.myspace.com/houseofthumbs
http://www.myspace.com/veilofanguish
http://myspace.com/afallentheory
Facebook event pages:
May 22: http://www.facebook.com/event.php?eid=68141698217
May 23: http://www.facebook.com/event.php?eid=64215992394