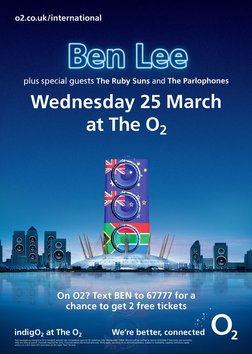 Date
Wednesday 25 March 2009 at 7:30pm
Description
O2 are putting on a free gig on March 25th at Indigo2 at The O2.
The gig will be showcasing some wicked Antipodean bands - Ben Lee's headlining and doing it for the aussies! Then it's Kiwi band The Ruby Suns and SA's brilliant indie band The Parlotones supporting.
It's a free gig and open to O2 customers only. All you have to do is text BEN to 67777 from your O2 phone for a chance to get you plus one tickets. The gig is on Wednesday March 25th.
full details on all the gigs and on how to get a free sim card, check this page.....http://www.o2.co.uk/yourcountry
See you there
Coming soon - reply to and upvote shouts! Subscribe now for early access or find out more.
Log in to Last.fm or sign up to leave a shout.
oh yeah the ruby suns live, cant wait:D

Actions

hey guys this gig is all official now ! for full details from o2 go to this page http://www.o2.co.uk/yourcountry see the YC live section at the bottom, there are also details of how to get a free sim card so even if you are not on O2 you can be in time for the gig ! see you there andy

Actions