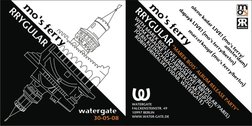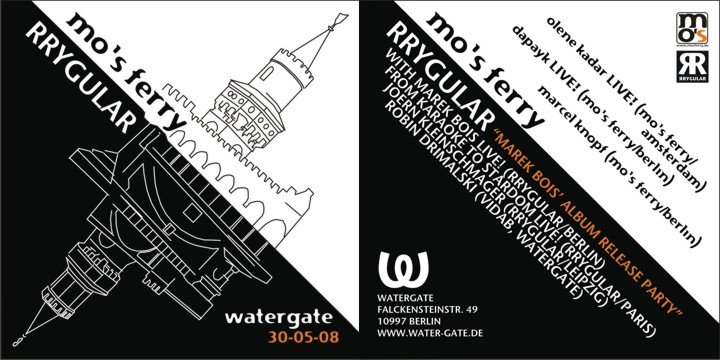 Location
Watergate Club
Falckensteinstraße 49, Berlin, 10997, Germany
Tel: 030 6128-0395
Description
Dapayks "Frickelsound"-Label Mo's Ferry Prod. präsentiert sich zum ersten Mal im Watergate und das gleich auf beiden Floors zusammen mit seinem technoideren Ableger RRYGULAR. Genau zwischen diesen beiden Welten bewegt sich derzeit auch der Labelchef selbst. Sowohl solo als auch in Begleitung präsentiert er seit einem halben Jahr das zweite Dapayk & Padberg Album "black beauty". Während dessen hat er dem wachsenden Druck seiner technoiden Wurzeln nachgegeben und sein erstes Marek Bois Album, die "Boisschen Untiefen" produziert, welches gerade auf RRYGULAR veröffentlicht wurde. Beide Seiten, Marek Bois und Dapayk solo, wird es an diesem Abend live zu erleben geben. Die Mo's Ferry "Frickelsound"-Fraktion wird dabei durch Marcel Knopf und den jungen holländischen Neuzugang Olene Kadar verstärkt. Letzterer wird mit seinem frischen und exzessiv-ravigen Liveset auch das Berliner Clubpublikum überzeugen. RRYGULAR präsentiert seinen MVP 2007 From Karaoke To Stardom mit einem düsteren und sehr detailverliebten Liveset. Abgerundet wird das Floorprogramm von Label-DJ Joern Kleinschmager und Watergate Resident Robin Drimalski. Vier Liveacts, drei DJs, zwei Floors - das schönste Club-Festival im Mai.
Coming soon - reply to and upvote shouts! Subscribe now for early access or find out more.
Log in to Last.fm or sign up to leave a shout.
Actions

hey hannezzz124,actually we're based in Berlin. i'm pretty sure this won't be the last labelnight ;-) see you soon...

Actions

Goddamn! It would be a pleasure to enjoy this event but unfortunately I´ll stay in Switzerland at this time :(( Please visit Berlin pretty soon again :)

Actions