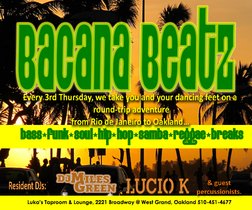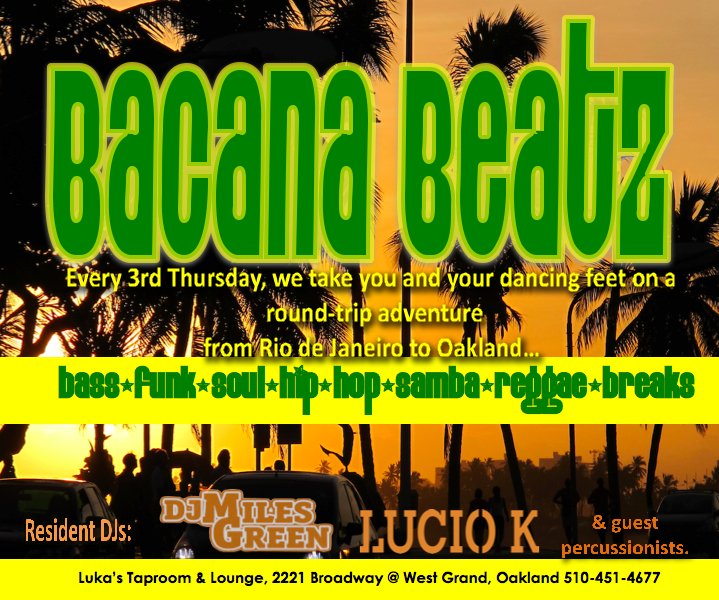 Date
Thursday 18 April 2013 at 9:00pm
Location
Luka's Taproom & Lounge
Oakland, United States
Description
Every 3rd Thursday of the month, Luka's Taproom & Lounge hosts a musical journey through the music and culture of Brazil. Come dance to the beautiful rhythms and dance samba with live percussionists and tropical drink specials as we celebrate Carnaval culture.
Two of the best world music DJs in the Bay area team up to present a 4 turntable battle style mix, guaranteed to keep bodies moving on the dance floor.
* BASS * FUNK * SOUL * HIP HOP * SAMBA * REGGAE * BREAKS *
DJ Lucio K (Royal Soul Records)
http://www.luciok.com.br/
Direct from Rio de Janiero, DJ LK brings an authentic blend of samba, bossa nova, baile funk, batucada and other Brazilian music styles. Lucio is a skilled producer who has an ear for detail and always provides a proper mix for the dance floor. COOL BEATZ!!!
DJ Miles Green
http://www.101entertainment.com/
This Oakland native has traveled through the Caribbean, Mexico, Puerto Rico, Jamaica and Brazil digging for music over a course of years. The result is a unique style that includes samba, soul, reggae, baile funk, hip hop and break beats. Miles is a turntablist DJ who knows how to read a crowd and always delivers a memorable experience.
Doors open at 9pm. No cover!Lucio K