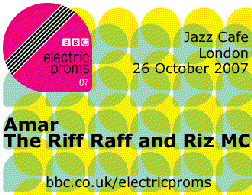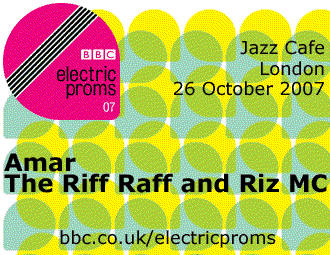 Date
Friday 26 October 2007
Description
Amar
London-based Asian singer Amar first featured on the 1997 album 'Talvin Singh presents Anokha : Sounds of The Asian Underground'. The daughter of Bhangra royalty Mangal Singh, she signed to Warner in her teens, recording her debut album 'Outside', produced by Nitin Sawhney.
Since then Amar has attracted the attention of hip hop heavyweight Timbaland and she features on his current album 'Shock Value'. She also appears on remixes of Nelly Furtado's 'Maneater' and 'Promiscuous Girl' singing in both Hindi and English.
Her forthcoming album is tipped to be the next Asian breakthrough release and will feature production from Timbaland and Jim Beanz.
Amar's Electric Proms performance will be an exclusive preview of her new album and will include special electric reversions of her early hits 'Jaan', 'Sometimes...' and 'Red Sky'.
The Riff Raff and Riz MC
Joining forces, The Riff Raff and Riz MC are performing as part of BBC Electric Proms Introducing... playing tracks of their own and a combining for a special collaboration.
The Riff Raff is young Alex Thompson a rapper and hip-hop artist who enjoys exploring samples and pushing boundaries. Take for instance his cover of The Kooks 'Naïve'. With drums, synths, bass and guitar, The Riff Raff have been championed by Radio 1 and 1xtra and were selected to play the 'BBC Introducing...' stage at Glastonbury 2007.
Riz MC won the 2007 UK Asian Music MC award, and created a buzz with his track the Post 9/11 Blues. With biting rhymes and high energy audience interaction, Riz MC also created a strong impression at Glastonbury this year.
BBC Electric Proms
This gig is part of the BBC's Electric Proms festival which takes place across Camden on 24-28 October. Over 80 artists are performing and they've all been encouraged to create something unique for their shows.
The gigs will be broadcast across BBC TV, radio and will be online to watch at bbc.co.uk/electricproms