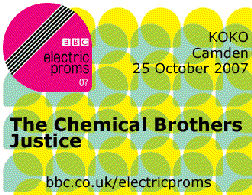 Date
Thursday 25 October 2007
Description
The Chemical Brothers
Tom Rowlands and Ed Simons both grew up in London and met during their university years in Manchester. The DJ duo started out playing in a pub in 1992 sharing a love of hip hop, techno, house and indie rock. They've since gone on to become one of the most famous and successful DJ/production teams in music.
Throughout their career, Chemical Tom and Ed have also garnered a reputation for their staggering live shows. Synonymous with thrilling visuals involving strobes and laser lights, The Chemical Brothers have treated arena and festival size crowds, like that seen at Glastonbury this year.
2007 has also seen the Grammy award winning duo release their sixth proper album, 'We Are the Night'. Featuring collaborations with Klaxons, Willy Mason, Ali Love and indie band Midlake, the album once again sees Tom and Ed pushing themselves and the sounds of others to create something entirely new.
This year's BBC Electric Proms is therefore the perfect platform for these masters of block rockin' beats. The Chemical Brothers will be joined by Beth Orton to create a one-off performance at Camden's KOKO full of surprises. Futuristic, psychedelic and sonically stimulating, dancing shoes are highly recommended.
Justice
Gaspard Augé and Xavier de Rosnay make up the brilliant French electronic duo, Justice, most famed for their breakthrough collaboration with Simian and hit single, 'We Are Your Friends'.
With signature lit up cross featuring as part of their stage set up, Justice released their full length album emblazoned with the Ԡ' symbol. Blowing away crowds at the Coachella Festival in Palm Springs and the Fuji Rock Festival in Japan, this French team have cemented themselves as a stellar live electronic act, with an ability to whip audiences into a frenzy.
Having remixed tracks for N.E.R.D, Britney Spears, Franz Ferdinand, Mystery Jets, Daft Punk and Justin Timberlake, to name a few, Justice are one of the most exciting dance acts of the moment. They will support UK duo The Chemical Brothers as part of the BBC Electric Proms.
BBC Electric Proms
This gig is part of the BBC's Electric Proms festival which takes place across Camden on 24-28 October. Over 80 artists are performing and they've all been encouraged to create something unique for their shows.
The gigs will be broadcast across BBC TV, radio and will be online to watch at bbc.co.uk/electricproms