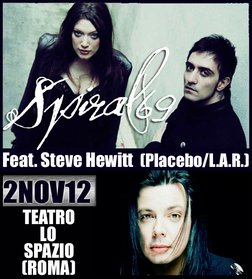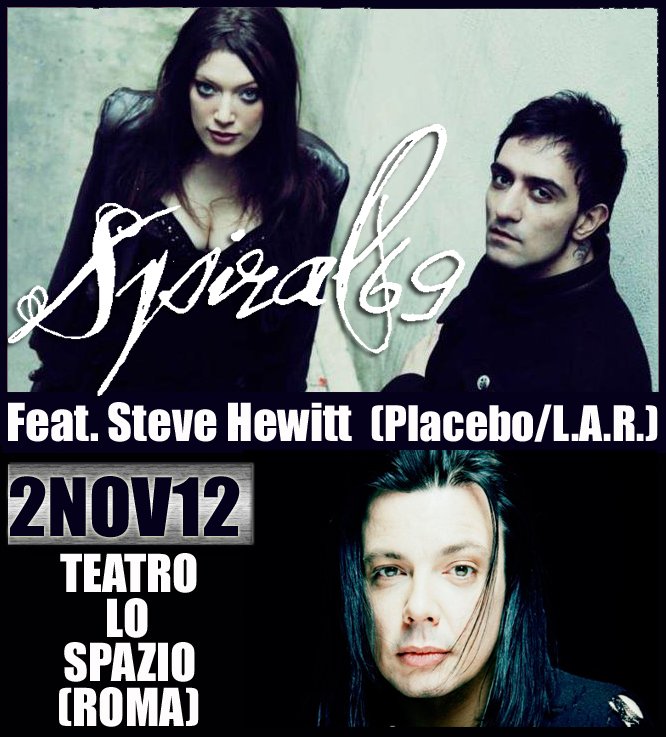 Date
Friday 2 November 2012 at 10:30pm
Location
Teatro Lo Spazio
Via Locri 44/46, Roma, Italy
Description
Venerdì 2 Novembre 2012 @ TEATRO LO SPAZIO - Via Locri 44(Roma)
Reduci da molti dei festival Dark/Wave/Goth più importanti d'Europa, gli SPIRAL69 tornano in concerto a Roma, per presentare in anteprima i brani del nuovo album "Ghost in my Eyes" previsto per Gennaio 2013, prodotto da Steve Hewitt storico batterista e co-autore dei PLACEBO, ora leader dei LOVE AMONGST RUIN, e missato da Paul Corkett, ingegnere del suono dei The Cure, Radiohead, Nick Cave and the Bad Seeds, Bjork, Placebo.
Per questo concerto di presentazione, Steve Hewitt sarà special guest "on stage" alla batteria con gli Spiral69.
SPIRAL69 (Roma)
(New wave/Dark/Folk/Pop)
Spiral69 è il progetto tra new/dark wave e pop di Riccardo Sabetti (ex Argine), una realtà vincente del panorama musicale italiano. "No Paint on the Wall" (prodotto da Megasound, distribuito Warner/Zebralution) è il secondo album della band, dopo quasi due anni dall'ultimo lavoro, "A Filthy Lesson for Lovers"(2009). In questi due anni, la "creatura" di Riccardo Sabetti è saltata agli occhi della critica e del pubblico ottenendo oltre un centinaio di recensioni ottime in tutta europa e oltre, e lo ha portato ad ottenere eccellenti collaborazioni con nomi importanti della musica mondiale come Steve Hawitt (Placebo), Tying Tiffany, Simone Salvatori (Spiritual Front) ed Edo Notarloberti (Ashram/Argine). In "No Paint on the Wall", Nell'ultimo album pubblicato il 1 Marzo 2011, basso e pianoforte diventano strumenti chiave dell'intero album, potenza e tenacia ritmica ne definiscono i contorni. La trama di archi ne intesse la dolcezza e una voce più profonda, ancora più emotivamente densa, trattiene il tutto rappresentando la soluzione e la sintesi del mood di Spiral69.
Al momento gli Spiral69 stanno preparando il nuovo album, prodotto da Steve Hewitt (Placebo/L.A.R.) e mixato da Paul Corkett (ingegnere del suono per The Cure, Nick Cave, BJork, Radiohead, Placebo),
previsto per Gennaio 2013.