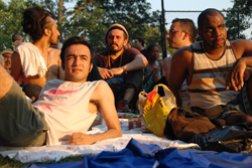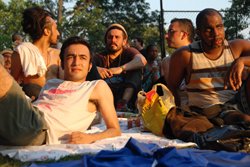 Date
Friday 19 October 2012 at 7:30pm
Location
Arab American National Museum
Dearborn, United States
Description
Tix: $10. Only 156 seats in this intimate auditorium!
Comprised of players hailing mostly from Colombia, M.A.K.U. Sound System makes big music that begins in traditional Afro-Colombian rhythms and ends somewhere in the punk-jazz stratosphere. Clarinet, trombone, sax, guitarra and Latin percussion supplement a rambunctious, driving rock core, creating a sound familiar enough to be danceable but always surprising. M.A.K.U. was born between the years 2009 and 2010, formed by South American expats living in New York City. They are Liliana Conde (vocals, percussion); Juan Ospina aka Prodigio Arribetiao (vocals, bass); Camilo Rodriguez (guitar, gaitas); Robert Stringer (trombone); Pipe Quiroz (synthesizers); and Andres Jimenez (drums).
Since their sizzling performance at the 20th Concert of Colors in Midtown Detroit this summer, M.A.K.U. has been on the road, playing venues including the Pritzker Pavilion in Chicago's Millennium Park and The Kennedy Center in Washington, D.C. They recently completed a new EP, MND: Music Never Dies, a follow-up to 2011's Makumbala.
"The octet's deep, sometimes dubby sound tears through the fabric of tradition with drums, electronics, horns, and a clarinet that adds a klezmer tinge."
-Richard Gehr, The Village Voice
"This ensemble presents a show full of pure energy, explosive drumming and Latin American flavor."
-www.gozamos.com