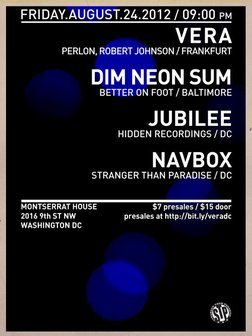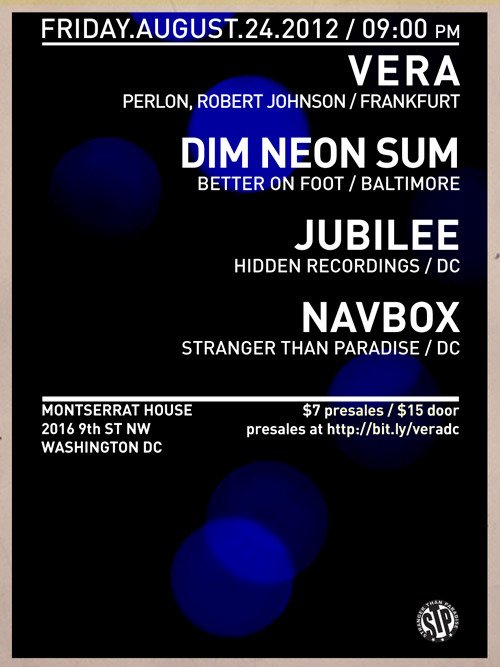 Date
Friday 24 August 2012 at 9:00pm
Location
TBA
Washington DC, United States
Description
Fri, Aug 24, 2012 · Doors 9PM · 21+
Tickets: http://bit.ly/veradc
Montserrat House
2016 9th St NW
Washington, DC 20001
VERA
(Robert Johnson Resident, Mara Trax, Perlon / Frankfurt)
http://soundcloud.com/veragoesdeep
Dim Neon Sum
(Better on Foot / Baltimore)
http://www.betteronfoot.org/
Jubilee
(Hidden Recordings / DC)
Navbox
(Stranger Than Paradise / DC)
Stranger Than Paradise returns Friday August 24th with a special performance from Frankfurt's Vera. The resident DJ of Robert Johnson, one of Europe's most respected venues, has been releasing music on first-class labels such as Moon Harbour, Oslo and Perlon with Mayaan Nidam as Mara Trax. Her tracks have appeared on high-profile compilations such as Ellen Allien's Boogybytes, Circoloco 10 years Anniversary and Tobi Neumann's Secretsundaze. Vera can be regularly seen sharing the stage with Perlon all-stars like Zip and Ricardo Villalobos as well as Hello?Repeat label-boss Jan Krueger.
We're also excited to host Dim Neon Sum (DNS), the Baltimore duo who have performed alongside Ame, Lee Curtiss, Deniz Kurtel, Wolf & Lamb and many others in 2012 alone. Their first release is set for October on the newly launched Baltimore-based label Better on Foot (http://www.betteronfoot.org). DNS will be setting the vibe with an extended opening set.
Additional sets come from Navbox and Jubilee. Half-price drinks from 9-11pm. Presales available at http://bit.ly/veradc
More on Vera:
During her childhood she was mostly surrounded by classical music and got her basic musical education by studying a few instruments. At the age of 14 she started to listen to hip hop and house music and was intrigued, but still had to wait another 4 years until she was old enough to explore music and life in the night clubs. When she first entered a techno club in Frankfurt in 1993, she found exactly what she had been looking for.
In the following years Vera started collecting mix-tapes and listened to uncountable DJ-Sets. She was a regular guest at the legendary techno club Omen in Frankfurt and at that time she developed her preferences for Chicago house, music from Detroit and the sound of Maurizio, Studio1, Thomas Brinkmann and the early Perlon and Playhouse releases.
…continue reading @ http://www.residentadvisor.net/dj/vera/biography
Vera Live @ Robert Johnson, Offebach (Jan 28 2011)
http://soundcloud.com/r_co/vera-live-robert-johnson
Vera - Fab rid promo mix (Feb. 2010)
http://soundcloud.com/veragoesdeep/vera-fabric-promo-mix
http://MyStrangeParadise.com