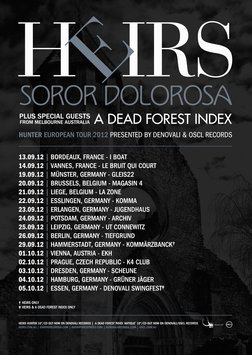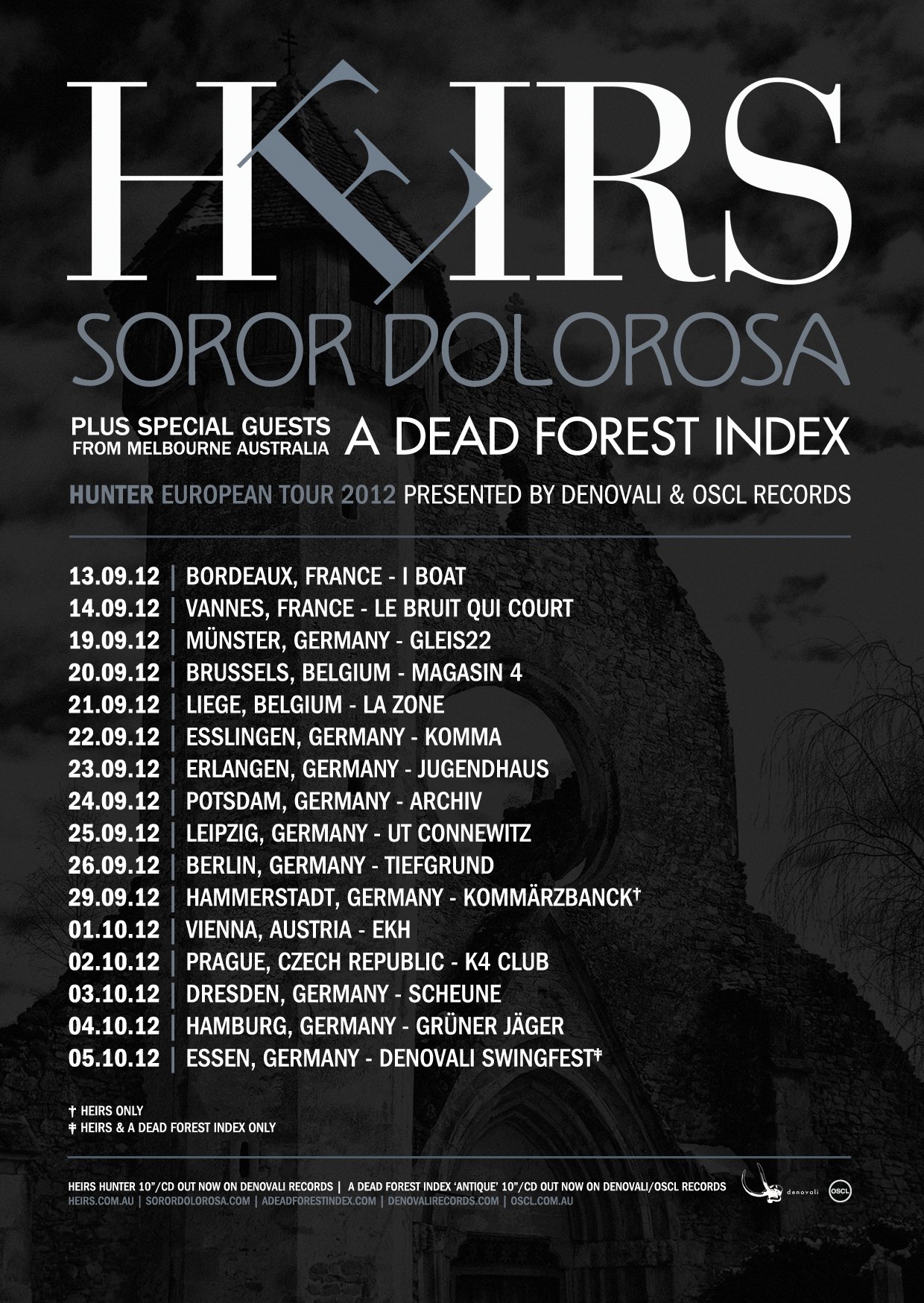 Date
Tuesday 25 September 2012 at 9:00pm
Description
Denovali and OSCL Records Proudly Present
HEIRS (Australia) - https://www.facebook.com/heirsaustralia
Hunter Tour 2012
w/ special guests
SOROR DOLOROSA (France) - https://www.facebook.com/sorordolorosa
A DEAD FOREST INDEX (Australia) - https://www.facebook.com/adeadforestindex
HEIRS
Hailed as one of the best post-metal albums of 2009, Heirs's debut, Alchera, established the band amongst Australia's foremost instrumental acts. Released by German label Denovali Records, the album contained distant echoes of industrial metal deviants Godflesh, the misanthropic catharsis of early Swans and the gloomy noise rock of Slint, but these influences are something they have been steadily outgrowing. The album's accompanying tour saw the band play 69 shows across Europe, UK and Japan, cementing their reputation for delivering an engulfing and all-consuming live experience. On stage, the band maintained a relentless, ear-splitting offensive, defying audience expectations by refusing to offer an immediate sense of resolution.2010 saw the release of Heirs second album, Fowl, displaying a shift towards a broader sonic palette, taking further influence from industrial, darkwave and gothic rock. Incorporating a pugilistic rhythmic foundation with coarse, threatening guitar textures and a stronger electronic presence, Fowl marked a great leap forward for Heirs, taking them beyond genres into a realm that is almost hermetic in its vision. The album also featured the bands first collaborations with multi instrumentalist and world renowned Theremin maestro, Miles Brown. Receiving much praise from critics and fans alike, Heirs returned to Europe to promote the album, performing Denovali Swingfest in Germany, Bracara Extreme Festival in Portugal, as well as headline shows across France, Spain, Austria, Switzerland, Italy, Belgium and Germany. An Australian tour with "metal-gaze" legends Alcest followed in 2011, which saw the band courting a confronting visual presence to compliment the weight of their sound.
In September 2011, Heirs released the first single from their forthcoming third album in the form of a 10″/CD titled "Hunter", again on Denovali Records. The material sees Heirs strengthening their melodic resolve, and while equally intense, inhabits a less oppressive atmosphere, with the band citing Cocteau Twins & Sisters of Mercy as being influential to their process. It also sees the band taking their visual explorations to new heights, with artwork and video production taking even greater significance, where light, colour and sound are distorted in to a monochrome, hyper-real coition.
Heirs – ʻHunter' 10"/CD out now on Denovali Records.
"I haven't been this excited about a new record, or a new band, in a very long time. Even the most experienced and skilled ensembles rarely produce work that is as high-calibre and consistent as this release. Heirs has created something special with Fowl, a record that everyone should – at the very least – give a chance." - The Silent Ballet
"I haven't heard an album this invigorating… If you're a fan of any genre of heavy music, this is an absolutely essential purchase and a forerunner for Australian album of the year. Brilliant." - X-Press Magazine
"There's reticent beauty in the ugliness here and a heart that beats with purpose. There are many complexities, but also a clear and single narrative that defines Fowl – most notably from anything else that heavy music has on offer! 5 Stars" - Time Off Magazine
"There is a hallucinatory beauty in Heirs' terror, but it is the beauty of infinitely stretched time, the interminable intervals between seconds, and the desire for oblivion echoing through a vacant mind." - Rene Shaefer
http://heirs.com.au/
http://facebook.com/heirsaustralia
http://www.twitter.com/heirsmusic
http://last.fm/artist/heirs
SOROR DOLOROSA
Formerly from Toulouse (southern France), SOROR DOLOROSA was originally founded in 2001, with Andy (Nuit Noire, Mutiilation, Peste Noire, Celestia, Darvulia, Fornication) on drums, Franck (ex Funeraell) on guitar, Herve (ex Funeraell) on bass, and Christophe Guenot (ex Funeraell) on vocals.
Herve came up with the name of SOROR DOLOROSA because of a novel titled "Bruges-la-morte" by Georges Rodenbach, a Flemish symbolist writer from the late 19th century. A novel marked by symbolism of nostalgia and mourning. SOROR DOLOROSA means "Sister Pain" in Latin, one could almost translate it as "lovers of pain" in a more Baudelaire way…
The band recorded an unpublished demo, then the line-up changed in 2003 with the arrival of Emey (ex Contrast, Unscarred …), who replaced Franck on guitar. Subsequently they recorded a second unpublished demo and did some gigs until they split in 2005.
In August 2007 they reformed with the present line up. A month later, based on songs written by bassist Carles Hervé, the band recorded a third unpublished demo whose content sounds definitely Gothic Rock and Death Rock, influenced by groups such as Christian Death, Bauhaus and The Sisters of Mercy .
From that time, Soror Dolorosa's style became more personal and they found an own identity as a band. The songs were now written by the four members together, though still mostly based on the bass guitar. They took on a Cold Wave colouring, more in line with bands such as The Cure or Human League , but also with hints of 70′s rock like Deep Purple or Black Sabbath and retaining the Sisters of Mercy- like Gothic Rock influence .
Soror Dolorosa made their first record appearance with "American Chronicle" in March 2008, on the free compilation "Poisoned Dead Frogs" (Manic Depression): http://www.manicdepressionrecords.com/frogs.php
When the third demo was out on myspace, the group was contacted to release an EP through the British label Todestrieb Records. This 6 track EP, entitled " Severance", wasn't released until August 2009 due to production delays and is being distributed through underground ways, while the band promoted it with successful live performances all over France.
Some time in 2009, through the help of Neige (Amesoeurs, Alcest), the band came in contact with Northern Silence Productions, who offered to release their upcoming albums on their newly founded sublabel Beneath Grey Skies, and subsequently produced the debut full length " Blind Scenes " , recorded in August 2010 at Drudenhaus Studio.
To use the band's own words : " The album is quite cold, with misty blue moods. 'Blind Scenes' would rather be perceived as scenes unseen, that is to say, out of time and out of the real world. As a state of grace overshadowed by the inevitability of everyday life. The lyrics are heartfelt and talk about regrets, coldness, alcohol abuse, as well as forfeiture, but mostly nostalgia, hence the blue color of the music."
That's also why they chose "Drudenhaus Studio" (CNK, Alcest, Les Discrets, Varsovie, Necroblaspheme), recommended by Neige, who described it as an ideal place to record their music. On the one hand because the studio is analog, and on the other hand because it is located in Brittany's countryside, isolated from the rest of the world, with compulsory rain in August. It was produced by Benoit Roux "Mr. Xort" (ex Anorexia Nervosa), who recorded additional keyboards.The album artwork & layout was done by Metastazis, who is one of the best illustrators/designers of the underground scene and worked for Alcest, Anathema, Antaeus, Enthroned, Forgotten Woods, Gorgoroth, Immolation, Secrets of the Moon, Taake, Listenable Records, Osmose Productions & Warner Bros.
So, that's how Soror Dolorosa appears today, which is quite a feat, knowing their respective influences. Andy, as a drummer, has been marked by Black Metal and Metal in general but also by the likes of Human League, Fields of the Nephilim or Ulver ' s latest albums. Herv e is a big fan of The Cure, Depeche Mode and Christian Death. Emey is somewhat influenced by Metallica, Satriani, Vai, but also Blues & Movie Soundtracks. Franck listens to bands as diverse as Iron Maiden, Bon Jovi or The French Variety, as well as Reggae, although he is primarily a Beatles fan. However, since the basics for their songs often come from bass riffs, the colour of the music naturally goes into the direction of Gothic/Death Rock and Cold Wave.
http://www.sorordolorosa.com/
http://www.facebook.com/sorordolorosa
http://last.fm/artist/soror+dolorosa
A DEAD FOREST INDEX
Melbourne based A Dead Forest Index are brothers Adam & Sam Sherry, forming a minimalist two piece. Drawing on elements centred around rhythmic pulls and washes of vocals, the guitar & percussion clatters in and around measured structures, that can end abruptly, or drift off into tapping decrescendos where the harmony does find a resolution.
Antique brings to life a sound that is strikingly original and sincere. This music recalls and is homage to a by-gone era. Lyrically engulfing forms are highlighted by repetition, or isolated acapella moments, that mark this collection as a unique and important first release.
A fresh new sound which should please fans of a mixture of Scott Walker, Chelsea Wolfe, Einstürzende Neubauten, Bela Bartok or Dead Can Dance.
http://adeadforestindex.com/
http://www.last.fm/music/A+Dead+Forest+Index