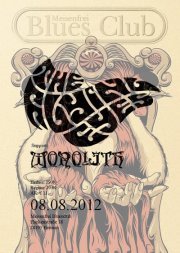 Date
Wednesday 8 August 2012 at 7:30pm
Location
Meisenfrei / Blues Club
Hankenstraße 18a, Bremen, 28195, Germany
Description
THE FLYING EYES (psychedelic blues-rock / baltimore):
http://www.theflyingeyes.com/
The Flying Eyes are a heavy, psychedelic rock band hailing from Baltimore, Maryland. Their name comes from a 1962 science fiction novel about giant, disembodied eyes that descend from outer space to control humanity. Since forming in 2007, they have played supporting gigs with Dead Meadow, The Raveonettes, The Black Angels, Witch and Dan Auerbach. For the past five summers, The Flying Eyes have produced "Farm Fest", a DIY ...music festival in Maryland. They co-headlined Farm Fest 2011 with Arbouretum and Lower Dens, drawing over 700 people to the Carney Family Farm.
In late 2009, The Flying Eyes released a compilation of their first two EPs ("Bad Blood/Winter") on German indie label Trip in Time/World in Sound Records, and supported the record with a six-week European tour, notably sharing the main stage of the Burg Herzberg Festival with Hawkwind and Jeff Beck. In the spring of 2011, they released their first full-length album, "Done So Wrong" (Trip in Time/World in Sound Records), accompanied by another European tour and an appearance on the legendary Rockpalast television show (broadcast on German national TV). To close out the year, the band spent two weeks on a US west coast supporting Radio Moscow before leaving for a another six-week swing of Europe. They are currently looking forward to performing at SXSW in the spring of 2012 before they return to Europe in May for a short trip to the Orange Blossom Special Festival, presented by Rolling Stone...
"…The Flying Eyes appeared and cast their hypnotic power over the crowd."
MONOLITH (psychedelic doom-rock / bremen):
http://www.myspace.com/monolithdoom