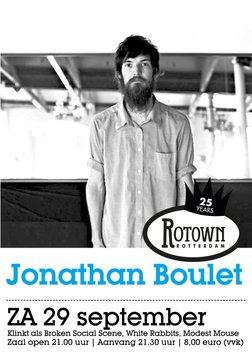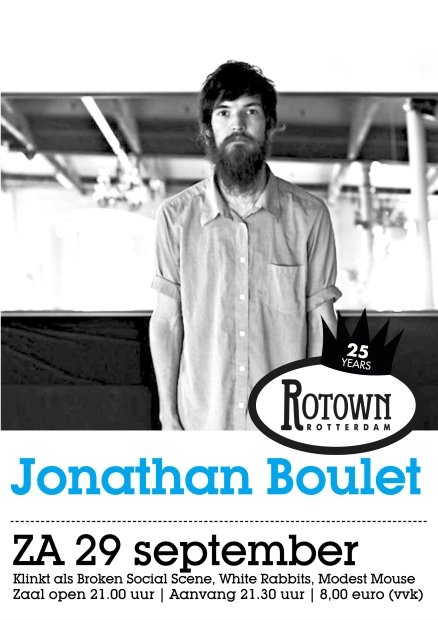 Date
Saturday 29 September 2012 at 9:30pm
Location
Rotown
Nieuwe Binnenweg 19, Rotterdam, 3014 GB, Netherlands
Description
De naam doet wellicht anders vermoeden, maar met Jonathan Boulet ontvangen we absoluut geen gevoelige singer-songwriter. Sterker nog, samen met zijn muzikale vrienden produceert deze jonge Australiër behoorlijk wat herrie. In feite is het groots aangezette indierock met veel, heel veel razende percussie. Eenmaal op gang lijken die meeslepende drums werkelijk niet te stoppen, aangevuld met vlijmscherpe gitaren en uitzinnige zangpartijen. Qua avontuur, intensiteit en energie doet het meer dan eens denken aan Arcade Fire, Broken Social Scene en Wolf Parade. De Canadese grootheden dus eigenlijk, waarbij Jonathan Boulet duidelijk niet onder doet aan hun urgentie en daadkracht. Het kwalitatieve Modular-label, bekend van o.a. Tame Impala en Wolfmother, ontdekte zijn talent en bracht onlangs het nieuwe album 'We Keep The Beat, Found The Sound, See The Need, Start The Heart' uit. Buiten Australië is Jonathan Boulet vanzelfsprekend nog een totaal onbekende naam, maar liefhebbers van de betere 'indie' weten hun weg naar Rotown vast te vinden.
Klinkt als: Broken Social Scene, White Rabbits, Modest Mouse
Zaal open: 21.00 uur / Aanvang: 21.30 uur / Entree 8 euro
http://jonathanboulet.com
Concerten waarvan de kaarten in de voorverkoop verkocht worden, zijn online te verkrijgen (e-tickets ontvang je in je mailbox en print je zelf uit), alsmede bij Rotown, Velvet Music Rotterdam (Oude Binnenweg 121a), Velvet Music Delft (Voldersgracht 3), Plato Rotterdam (Meent 116) en bij alle 400 Primera winkels in het land.